Categories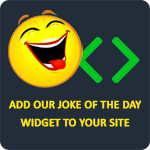 My friend asked me, "Why are you getting a divorce?" I responded, "My wife wasn't home the entire night and in the morning she said she spent the night at her sister's house." He said, "So?" And I responded, "She's lying. I spent the night at her sister's house!"
Curonian
A man came home from work, sat down in his favorite chair, turned on the TV, and said to his wife, "Quick, bring me a beer before it starts" She looked a little puzzled, but brought him a beer. When he finished it, he said, "Quick, bring me another beer. It's gonna start." This time she looked a little angry, but brought him a beer. When it was gone, he said, "Quick, another beer before it starts." "That's it!" She blows her top, "You bastard! You waltz in here, flop your fat ass down, don't even say hello to me and then expect me to run around like your slave. Don't you realize that I cook and clean and wash and iron all day long?" The husband sighed. "Oh shit, it started!"
TheLaughFactory
A wife asked her husband, "Honey, will you still love me when I am old and overweight?" The man replied, "Yes, I do."
Anonymous
Q: Why didn't the man report his stolen credit card?
A: The thief was spending less then his wife.
TheLaughFactory
Bernie was invited to his friend's home for dinner. Morris, the host, preceded every request to his wife by endearing terms, calling her Honey, My Love, Darling, Sweetheart, Pumpkin, etc. Bernie looked at Morris and remarked, "That's really nice, that after all these years that you have been married, you keep calling your wife those pet names." Morris hung his head and whispered, "To tell you the truth, I forgot her name three years ago!"
lesliekimm