Categories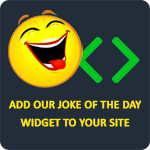 One day, a man came home and was greeted by his wife dressed in stunningly sexy lingerie. "Tie me up," she purred, "And you can do anything you want." So he tied her up and went golfing.
Zinga
Wife: "Our new neighbor always kisses his wife when he leaves for work. Why don't you do that?"
Husband: "How can I? I don't even know her."
Anonymous
Man: "Wanna hear a joke about my penis? Oh never mind, it's too long."
Woman: "Want to hear a joke about my vagina? Never mind, you'll never get it."
Yo mamma
Q: Why are most hurricanes named after women?
A: Because when they come they are wet and wild and when they leave they take your house and your car.
Anonymous
A guy and his wife are sitting and watching a boxing match on television. The husband sighs and complains, "This is disappointing. It only lasted for 30 seconds!" "Good," replied his wife. "Now you know how I always feel."
Kid.KT