Categories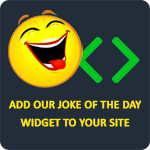 My friend asked me, "Why are you getting a divorce?" I responded, "My wife wasn't home the entire night and in the morning she said she spent the night at her sister's house." He said, "So?" And I responded, "She's lying. I spent the night at her sister's house!"
Curonian
Man: I know how to please a woman.
Woman: Then please leave me alone.
LaughFactory
A little old lady comes into the kitchen to talk to her husband and says, "Honey just look at me. My legs are heavy, thighs are getting big, and boobs are sagging. I could really use a complement right about now." The husband replied, "You have really good eye sight!"
nightmaregirl
A man is standing at a grave, staring at the head stone. A second man walks up and asks, "Is this someone you knew?" The first guy says, "Yes, it was my wife." The second guy says, "It must be hard to lose a wife." The first guys replies, "Yep, damn near impossible."
KSConn1
When you are married, nobody asks about your sex life. They know that you don't have one!
at3418