Categories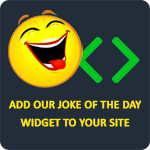 A married man was having an affair with his secretary. One day, their passions overcame them in the office and they took off for her house. Exhausted from the afternoon's activities, they fell asleep and awoke at around 8 p.m. As the man threw on his clothes, he told the woman to take his shoes outside and rub them through the grass and dirt. Confused, she nonetheless complied and he slipped into his shoes and drove home. "Where have you been?" demanded his wife when he entered the house. "Darling," replied the man, "I can't lie to you. I've been having an affair with my secretary. I fell asleep in her bed and didn't wake up until eight o'clock." The wife glanced down at his shoes and said, "You liar! You've been playing golf!"
Anonymous
A man drinks a shot of whiskey every night before bed. After years of this, the wife wants him to quit. She gets two shot glasses, fills one with water and the other with whiskey. After bringing him to the table that has the glasses, she brings his bait box. She says, "I want you to see this." She puts a worm in the water, and it swims around. She puts a worm in the whiskey, and the worm dies immediately. She then says, feeling that she has made her point clear, "What do you have to say about this experiment?" He responds by saying, "If I drink whiskey, I won't get worms!"
Viva173
Marriage is a 3-ring circus: engagement ring, wedding ring, and suffering.
TheLaughFactory
A man joins a soccer team and his new teammates inform him, "At your first team dinner as the new guy, you will have to give us a talk about sex." The evening arrives and he gives a detailed, humorous account of his sex life. When he got home, his wife asked how the evening went and not wanting to lie, but also not wanting to explain exactly what happened, he said, "Oh, I had to make a talk about yachting," his wife thought this a little peculiar but said nothing more and went to sleep. The next day she bumped into one of his new teammates at the supermarket and asked, "I heard my husband had to make a speech last night. How did it go?" His mate said smiling, 'Oh, it was excellent! Your husband is clearly very experienced!." The wife looked confused and replied to his mate, "Strange, he has only done it twice and the second time he was sick."
Anonymous
A farmer walks into his bedroom carrying a lamb under his arm. He walks over to his wife who's laying in bed. "See!" he yells, "This is the pig I have to have sex with whenever you get one of your headaches!" The wife says, "You know that's a lamb under your arm, don't you?" The farmer says, "I wasn't talking to you."
Anonymous