Categories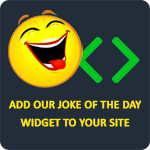 During the wedding rehearsal, the groom approaches the pastor with an unusual offer. "Look, I'll give you $100 if you'll change the wedding vows. When you get to the part where I'm supposed to promise to 'love, honor, and obey' and 'be faithful to her forever,' I'd appreciate it if you'd just leave that out." He passes the minister a $100 bill and walks away satisfied. On the day of the wedding, when it comes time for the groom's vows, the pastor looks the young man in the eye and says, "Will you promise to prostrate yourself before her, obey her every command and wish, serve her breakfast in bed every morning of your life, and swear eternally before God and your lovely wife that you will not ever even look at another woman, as long as you both shall live?" The groom gulps, looks around, and says in a tiny voice, "Yes," then leans toward the pastor and hisses, "I thought we had a deal." The pastor puts a $100 bill into the groom's hand and whispers, "She made me a better offer."
Basala
What do marriage and a tornado have in common? In the beginning there's a lot of blowing and sucking, and in the end someone loses a house.
Shalia
A couple drives to the hospital because the wife is in labor. The doctor alerts them that she invented a machine that will transfer some of the labor pain to the father, if they'd like. The husband eagerly says, "Give it all to me!" The couple returns home with a bouncing baby boy, only to find the mailman dead on their lawn.
pattyvasquez
I've spent the last two years looking for my wife's killer, but nobody will do it.
TheLaughFactory
A man and a woman have just had their 50th wedding anniversary. The husband turns to his wife and asks, "What do you want to do to celebrate our anniversary dear?" She replies, "Let's run upstairs and make love." He turns to her and says, "Well make up your mind, we can't do both!"
fieldfam