Categories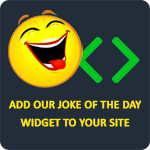 Man: "Wanna hear a joke about my penis? Oh never mind, it's too long."
Woman: "Want to hear a joke about my vagina? Never mind, you'll never get it."
Yo mamma
Q: Why are most hurricanes named after women?
A: Because when they come they are wet and wild and when they leave they take your house and your car.
Anonymous
A man goes to see a wizard and says, "Can you lift a curse that a priest put on me years ago?" "Maybe," says the wizard, "Can remember the exact words of the curse?" The man replies, "I pronounce you man and wife."
Katie Reilly
A man comes home, finds his wife in bed with another man, and asks, "What is this?!?" The wife turns to her lover and says, "See, I told you he was stupid!"
tabya6
Marriage is a 3-ring circus: engagement ring, wedding ring, and suffering.
TheLaughFactory