Categories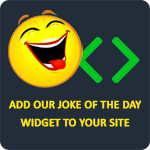 An old man goes into Victoria's Secret and tells the sales-person behind the counter he needs a present for his wife. "See," explains the man, "It is my fiftieth wedding anniversary and I would like to get something pretty to surprise the little lady, if you know what I mean." When he gets home, his wife asks with a scowl on her face, "Where have you been?" "Surprise," says the old man and hands her a sexy tiny teddy. The wife rips it from his hand and takes it to the bathroom to try it on. She struggles to make it fit, but it is two sizes too small. She take a long time in the bathroom and hopes her husband will lose interest and fall asleep because it is getting late into the evening. Finally she emerges from the bathroom with all the lights out. She is completely nude and pretends to model it in front of him. Her husband, still sitting up, squinting to try and see finally says, "For as much money I spent on it, they could of at least ironed out the wrinkles."
Mark My Words
A man drinks a shot of whiskey every night before bed. After years of this, the wife wants him to quit. She gets two shot glasses, fills one with water and the other with whiskey. After bringing him to the table that has the glasses, she brings his bait box. She says, "I want you to see this." She puts a worm in the water, and it swims around. She puts a worm in the whiskey, and the worm dies immediately. She then says, feeling that she has made her point clear, "What do you have to say about this experiment?" He responds by saying, "If I drink whiskey, I won't get worms!"
Viva173
Marriage is a 3-ring circus: engagement ring, wedding ring, and suffering.
TheLaughFactory
A farmer walks into his bedroom carrying a lamb under his arm. He walks over to his wife who's laying in bed. "See!" he yells, "This is the pig I have to have sex with whenever you get one of your headaches!" The wife says, "You know that's a lamb under your arm, don't you?" The farmer says, "I wasn't talking to you."
Anonymous
On New Year's Eve, a woman stood up at a local pub and said it was time to get ready for the midnight countdown. At the stroke of midnight, she wanted every husband to stand next to the one person who made his life worth living. As the clock struck midnight, the bartender was almost crushed to death.
amorourk