Categories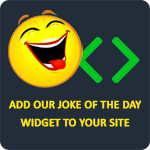 A married man was having an affair with his secretary. One day, their passions overcame them in the office and they took off for her house. Exhausted from the afternoon's activities, they fell asleep and awoke at around 8 p.m. As the man threw on his clothes, he told the woman to take his shoes outside and rub them through the grass and dirt. Confused, she nonetheless complied and he slipped into his shoes and drove home. "Where have you been?" demanded his wife when he entered the house. "Darling," replied the man, "I can't lie to you. I've been having an affair with my secretary. I fell asleep in her bed and didn't wake up until eight o'clock." The wife glanced down at his shoes and said, "You liar! You've been playing golf!"
Anonymous
I've spent the last two years looking for my wife's killer, but nobody will do it.
TheLaughFactory
A man and a woman have just had their 50th wedding anniversary. The husband turns to his wife and asks, "What do you want to do to celebrate our anniversary dear?" She replies, "Let's run upstairs and make love." He turns to her and says, "Well make up your mind, we can't do both!"
fieldfam
There are three women. One is dating, one is engaged, and one is married. They decide to get kinky with their men and really pull out all the stops to make it extra special. The woman who is dating says, "Okay, so I bought black leather, red lipstick, fishnet stockings, and really got crazy. He loved it so much he thinks he's in love." The woman who is engaged says, "I showed up to his work after hours wearing only a red coat. Let's just say he wants to move the wedding date up!" The woman who is married says, "Okay, I really went all out. I got a babysitter for the kids, and bought a black mask and a whip. My husband gets home, goes straight to the fridge, and grabs a beer. Then he plops down on the couch and says, 'Hey Batman! Where the f*ck is dinner?!?'"
mgrove0328
If you want to know who is really man's best friend, put your dog and your wife in the trunk of your car, come back an hour later, open the trunk, and see which one is happy to see you.
Anonymous