Categories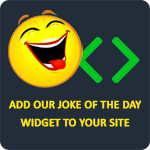 Wife: "Our new neighbor always kisses his wife when he leaves for work. Why don't you do that?"
Husband: "How can I? I don't even know her."
Anonymous
Q: Why are most hurricanes named after women?
A: Because when they come they are wet and wild and when they leave they take your house and your car.
Anonymous
A man goes to see a wizard and says, "Can you lift a curse that a priest put on me years ago?" "Maybe," says the wizard, "Can remember the exact words of the curse?" The man replies, "I pronounce you man and wife."
Katie Reilly
A man and a wife were in bed one morning when the wife said, "I had a strange dream last night. I dreamed I was at a penis auction. Long penises were going for $100 and thick penises were going for $300." The husband asked, "What would mine go for?" The wife replied, "They were giving ones like yours away for free." The husband said, "I also had a dream last night about an auction where they were selling juicy vaginas for $500 and tight vaginas for $1,000." "How about mine?" the wife asked and the husband replied, "That was where they were holding the auction."
Anonymous
Two men were talking. "So, how's your sex life?"
"Oh, nothing special. I'm having Social Security sex."
"Social Security sex?"
"Yeah, you know, I get a little each month, but not enough to live on."
blanky