Categories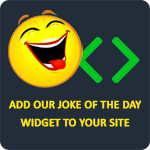 A woman was taking an afternoon nap. When she woke up, she told her husband, "I just dreamed that you gave me a pearl necklace. What do you think it means?" "You'll know tonight," he said. That evening, the man came home with a small package and gave it to his wife. Delighted, she opened it to find a book entitled "The Meaning of Dreams."
Hayden Thomas
A wife asked her husband, "Honey, will you still love me when I am old and overweight?" The man replied, "Yes, I do."
Anonymous
A man put out a classified ad that read, "Wife wanted." The next day he received a hundred responses all saying the same thing: "You can have mine."
Ellen Nichol
Girlfriend: "Am I pretty or ugly?"
Boyfriend: "You're both."
Girlfriend: "What do you mean?"
Boyfriend: "You're pretty ugly."
squatter dude
Q: Why didn't the man report his stolen credit card?
A: The thief was spending less then his wife.
TheLaughFactory