Categories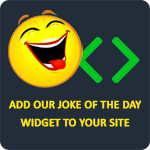 A woman was taking an afternoon nap. When she woke up, she told her husband, "I just dreamed that you gave me a pearl necklace. What do you think it means?" "You'll know tonight," he said. That evening, the man came home with a small package and gave it to his wife. Delighted, she opened it to find a book entitled "The Meaning of Dreams."
Hayden Thomas
Marriage is a 3-ring circus: engagement ring, wedding ring, and suffering.
TheLaughFactory
A young couple is on their honeymoon. The husband is sitting in the bathroom on the edge of the bathtub saying to himself, "Now how can I tell my wife that I've got really smelly feet and that my socks absolutely stink? I've managed to keep it from her while we were dating, but she's bound to find out sooner or later that my feet stink. Now how do I tell her?" Meanwhile, the wife is sitting in the bed saying to herself, "Now how do I tell my husband that I've got really bad breath? I've been very lucky to keep it from him while we were courting, but as soon as he's lived with me for a week, he's bound to find out. Now how do I tell him gently?" The husband finally plucks up enough courage to tell his wife and walks into the bedroom. He walks over to the bed, climbs over to his wife, puts his arm around her neck, moves his face very close to hers and says, "Darling, I've got a confession to make." She says, "So have I, love." To which he replies, "Don't tell me, you've eaten my socks."
milagallo
A man comes home, finds his wife in bed with another man, and asks, "What is this?!?" The wife turns to her lover and says, "See, I told you he was stupid!"
tabya6
Teacher: "Answer this math problem: if your father earns $500 a week and gives half to your mother. What will he have?"
Student: "A heart attack."
Anonymous