Categories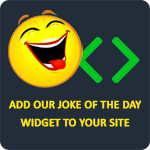 A man approached a very beautiful woman in the large supermarket and said, "I've lost my wife here in the supermarket. Can you talk to me for a couple of minutes?" The woman looked puzzled. "Why do you want to talk to me?" she asked. "Because every time I talk to a woman with beautiful tits like yours, my wife appears out of nowhere"
penehoff
Man: I know how to please a woman.
Woman: Then please leave me alone.
LaughFactory
A husband asks his wife, "Will you marry after I die?" The wife responds, "No, I will live with my sister." The wife asks him back, "Will you marry after I die?" The husband responds, "No, I will also live with your sister."
joker
A husband and wife are moving out of their house and are starting to box everything up. The husband finds a box under the bed, pulls it out, and looks inside, where he finds two eggs and about $8,000. He approaches the wife and asks, "What are the eggs for?" She replies, "Every time I cheat on you, I put an egg in the box." He says, "That's alright, you've only cheated on me twice. What's the money for?" The wife replies, "Every time I get a dozen, I sell them!"
Anonymous
A little old lady comes into the kitchen to talk to her husband and says, "Honey just look at me. My legs are heavy, thighs are getting big, and boobs are sagging. I could really use a complement right about now." The husband replied, "You have really good eye sight!"
nightmaregirl