Categories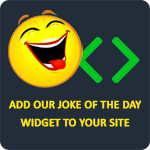 A man placed some flowers on the grave of his dearly departed mother and started back toward his car when his attention was diverted to another man kneeling at a grave. The man seemed to be praying with profound intensity and kept repeating, "Why did you have to die? Why did you have to die?" The first man approached him and said, "Sir, I don't wish to interfere with your private grief, but this demonstration of pain is more than I've ever seen before. For whom do you mourn so deeply? A child? A parent?" The mourner took a moment to collect himself and replied, "My wife's first husband."
Youden
A woman was taking an afternoon nap. When she woke up, she told her husband, "I just dreamed that you gave me a pearl necklace. What do you think it means?" "You'll know tonight," he said. That evening, the man came home with a small package and gave it to his wife. Delighted, she opened it to find a book entitled "The Meaning of Dreams."
Hayden Thomas
A man came home from work, sat down in his favorite chair, turned on the TV, and said to his wife, "Quick, bring me a beer before it starts" She looked a little puzzled, but brought him a beer. When he finished it, he said, "Quick, bring me another beer. It's gonna start." This time she looked a little angry, but brought him a beer. When it was gone, he said, "Quick, another beer before it starts." "That's it!" She blows her top, "You bastard! You waltz in here, flop your fat ass down, don't even say hello to me and then expect me to run around like your slave. Don't you realize that I cook and clean and wash and iron all day long?" The husband sighed. "Oh shit, it started!"
TheLaughFactory
A wife asked her husband, "Honey, will you still love me when I am old and overweight?" The man replied, "Yes, I do."
Anonymous
A man and a wife were in bed one morning when the wife said, "I had a strange dream last night. I dreamed I was at a penis auction. Long penises were going for $100 and thick penises were going for $300." The husband asked, "What would mine go for?" The wife replied, "They were giving ones like yours away for free." The husband said, "I also had a dream last night about an auction where they were selling juicy vaginas for $500 and tight vaginas for $1,000." "How about mine?" the wife asked and the husband replied, "That was where they were holding the auction."
Anonymous