Categories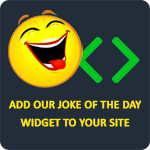 A man approached a very beautiful woman in the large supermarket and said, "I've lost my wife here in the supermarket. Can you talk to me for a couple of minutes?" The woman looked puzzled. "Why do you want to talk to me?" she asked. "Because every time I talk to a woman with beautiful tits like yours, my wife appears out of nowhere"
penehoff
A man drinks a shot of whiskey every night before bed. After years of this, the wife wants him to quit. She gets two shot glasses, fills one with water and the other with whiskey. After bringing him to the table that has the glasses, she brings his bait box. She says, "I want you to see this." She puts a worm in the water, and it swims around. She puts a worm in the whiskey, and the worm dies immediately. She then says, feeling that she has made her point clear, "What do you have to say about this experiment?" He responds by saying, "If I drink whiskey, I won't get worms!"
Viva173
Why do married men gain weight and bachelors don't? The bachelors go to the refrigerator, see nothing they want, then go to bed. Married guys go to bed, see nothing they want, then go to the refrigerator.
Anonymous
There are three women. One is dating, one is engaged, and one is married. They decide to get kinky with their men and really pull out all the stops to make it extra special. The woman who is dating says, "Okay, so I bought black leather, red lipstick, fishnet stockings, and really got crazy. He loved it so much he thinks he's in love." The woman who is engaged says, "I showed up to his work after hours wearing only a red coat. Let's just say he wants to move the wedding date up!" The woman who is married says, "Okay, I really went all out. I got a babysitter for the kids, and bought a black mask and a whip. My husband gets home, goes straight to the fridge, and grabs a beer. Then he plops down on the couch and says, 'Hey Batman! Where the f*ck is dinner?!?'"
mgrove0328
A country wife came home just in time to find her husband in bed with another woman. With superhuman strength, borne of fury, and cutting firewood, lifting sacks of feed, and bales of hay, she dragged him down the stairs, out the back door, and into the barn. She put his manhood in a vice, secured it tightly, and removed the handle. Next, she picked up an old carpenter's saw. The banged up cheater was terrified and hollered, "Stop! Stop! You're not gonna cut it off with that rusty saw, are you?" The wife, with a gleam of revenge in her eye, put the saw in her husband's hand and said, "Nope. You are! I'm gonna burn down the barn!"
cecesntraffic