Categories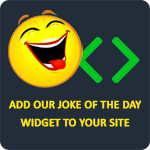 A man put out a classified ad that read, "Wife wanted." The next day he received a hundred responses all saying the same thing: "You can have mine."
Ellen Nichol
A guy and his wife are sitting and watching a boxing match on television. The husband sighs and complains, "This is disappointing. It only lasted for 30 seconds!" "Good," replied his wife. "Now you know how I always feel."
Kid.KT
If you want to know who is really man's best friend, put your dog and your wife in the trunk of your car, come back an hour later, open the trunk, and see which one is happy to see you.
Anonymous
Q: Why didn't the man report his stolen credit card?
A: The thief was spending less then his wife.
TheLaughFactory
Bernie was invited to his friend's home for dinner. Morris, the host, preceded every request to his wife by endearing terms, calling her Honey, My Love, Darling, Sweetheart, Pumpkin, etc. Bernie looked at Morris and remarked, "That's really nice, that after all these years that you have been married, you keep calling your wife those pet names." Morris hung his head and whispered, "To tell you the truth, I forgot her name three years ago!"
lesliekimm