Categories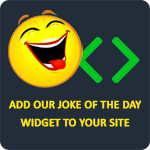 Q: Why didn't the man report his stolen credit card?
A: The thief was spending less then his wife.
TheLaughFactory
A man and a wife were in bed one morning when the wife said, "I had a strange dream last night. I dreamed I was at a penis auction. Long penises were going for $100 and thick penises were going for $300." The husband asked, "What would mine go for?" The wife replied, "They were giving ones like yours away for free." The husband said, "I also had a dream last night about an auction where they were selling juicy vaginas for $500 and tight vaginas for $1,000." "How about mine?" the wife asked and the husband replied, "That was where they were holding the auction."
Anonymous
Bernie was invited to his friend's home for dinner. Morris, the host, preceded every request to his wife by endearing terms, calling her Honey, My Love, Darling, Sweetheart, Pumpkin, etc. Bernie looked at Morris and remarked, "That's really nice, that after all these years that you have been married, you keep calling your wife those pet names." Morris hung his head and whispered, "To tell you the truth, I forgot her name three years ago!"
lesliekimm
An old man goes into the Social Security Office and fills out an application. Too old to have a birth certificate, he is asked to prove he is old enough. He opens his shirt and shows them the gray hair on his chest and they accept that as proof. He goes home to his wife, shows her the check, and explains to her what has happened. She replies, "Well get back down there, pull down your pants, and see if you can get disability!"
TheLaughFactory
Q: What did the cannibal do after dumping his girlfriend?
A: He wiped his bum.
That Wright