Categories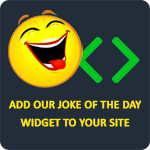 Two men were talking. "So, how's your sex life?"
"Oh, nothing special. I'm having Social Security sex."
"Social Security sex?"
"Yeah, you know, I get a little each month, but not enough to live on."
blanky
A man put out a classified ad that read, "Wife wanted." The next day he received a hundred responses all saying the same thing: "You can have mine."
Ellen Nichol
A wife asked her husband, "Honey, will you still love me when I am old and overweight?" The man replied, "Yes, I do."
Anonymous
Q: What did the cannibal do after dumping his girlfriend?
A: He wiped his bum.
That Wright
If you want to know who is really man's best friend, put your dog and your wife in the trunk of your car, come back an hour later, open the trunk, and see which one is happy to see you.
Anonymous