Categories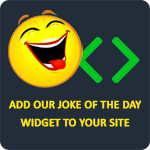 My friend asked me, "Why are you getting a divorce?" I responded, "My wife wasn't home the entire night and in the morning she said she spent the night at her sister's house." He said, "So?" And I responded, "She's lying. I spent the night at her sister's house!"
Curonian
Teacher: "Answer this math problem: if your father earns $500 a week and gives half to your mother. What will he have?"
Student: "A heart attack."
Anonymous
Q: What did the cannibal do after dumping his girlfriend?
A: He wiped his bum.
That Wright
Dylan was practicing his golf swing in his front yard when he swung a little too hard and sent the ball through his neighbors window. Dylan ran over and rang the doorbell three times. After no one answered for a few minutes, he opened the door to see broken glass everywhere, a lamp lying on the ground, and a huge fat Arabian man wearing a turban sitting on the couch. Dylan asked, "Who are you?" The fat man replied, "I am a genie you have freed from that lamp." Dylan questioned, "Oh man, do I get three wishes?" The genie replied, "Since you freed me by accident you only get two and I get one." Dylan thought about it and realized what he wanted, "I want to be the best golfer ever." The surprised genie said, "You sure? Most people wish for money, but okay. Now your wife gets one wish." Dylan brought over his wife who wished right away, "I want a million dollars every week of my life." The genie said, "Granted. And now for my wish, I have been cramped up in that lamp for many years so its been a while since I've been with a woman. I want one day of wild, crazy sex with your wife, Dylan." Dylan said, "No way!" The genie replied, "Not even for a million dollars a week?" Dylan turned to his wife, who said, "I guess for all that, I should. Well, not until Dylan leaves." Dylan said, "Okay, have fun, I guess," and left. Dylan's wife then proceeded to have wild sex for the rest of the day with the genie. When they were finished, the genie asked how old her husband was. She said, "Forty-five." The Genie laughed and said, "Isn't he a little old to be believing in genies?"
Joseph Emberson
A man placed some flowers on the grave of his dearly departed mother and started back toward his car when his attention was diverted to another man kneeling at a grave. The man seemed to be praying with profound intensity and kept repeating, "Why did you have to die? Why did you have to die?" The first man approached him and said, "Sir, I don't wish to interfere with your private grief, but this demonstration of pain is more than I've ever seen before. For whom do you mourn so deeply? A child? A parent?" The mourner took a moment to collect himself and replied, "My wife's first husband."
Youden