Categories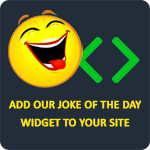 Q: What did the cannibal do after dumping his girlfriend?
A: He wiped his bum.
That Wright
A man walks into a bar and orders a shot, then he looks into his shirt pocket and orders another one. After he finishes, he looks into his pocket again and orders another shot. The bartender is curious and asks the man why he looks into his pocket before ordering each shot. The man replies, "I have a picture of my wife in my pocket, and when she starts to look good, I go home."
aussieange
Man: Your place or mine?
Woman: Both. You go to yours and I'll go to mine.
LaughFactory
Q: Why are most hurricanes named after women?
A: Because when they come they are wet and wild and when they leave they take your house and your car.
Anonymous
I've been in love with the same woman for 20 years. If my wife finds out, she'll kill me.
Samantha Stoker