Categories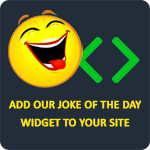 A boy is selling fish on a corner. To get his customers' attention, he is yelling, "Dam fish for sale! Get your dam fish here!" A pastor hears this and asks, "Why are you calling them 'dam fish.'" The boy responds, "Because I caught these fish at the local dam." The pastor buys a couple fish, takes them home to his wife, and asks her to cook the dam fish. The wife responds surprised, "I didn't know it was acceptable for a preacher to speak that way." He explains to her why they are dam fish. Later at the dinner table, he asks his son to pass the dam fish. He responds, "That's the spirit, Dad! Now pass the f*cking potatoes!"
bandajoey92
There was a preacher who fell in the ocean and he couldn't swim. When a boat came by, the captain yelled, "Do you need help, sir?" The preacher calmly said "No, God will save me." A little later, another boat came by and a fisherman asked, "Hey, do you need help?" The preacher replied again, "No God will save me." Eventually the preacher drowned & went to heaven. The preacher asked God, "Why didn't you save me?" God replied, "Fool, I sent you two boats!"
rodski
Josey wasn't the best pupil at Sunday school. She often fell asleep and one day while she was sleeping, the teacher asked her a question. "Who is the creator of the universe?" Joe was sitting next to Josey and decided to poke her with a pin to wake her up. Josey jumped and yelled, "God almighty!" The teacher congratulated her. A little later the teacher asked her another question, "Tell me who is our lord and savior?" Joe poked Josey again and she yelled out, "Jesus Christ!" The teacher congratulated her again. Later on the teacher asked, "What did Eve say to Adam after their 26th child?" Joe poked Josey again and she shouted, "If you stick that thing in me again, I'll snap it in half and stick it up your ass!"
hector
Q: What do a Christmas tree and a priest have in common?
A: Their balls are just for decoration.
TheLaughFactory
A man is talking to God. "God, how long is a million years?" God answers, "To me, it's about a minute." "God, how much is a million dollars?" "To me, it's a penny." "God, may I have a penny?" "Wait a minute."
Maysam