Categories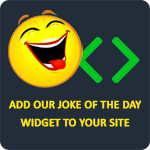 One night a lady came home from her weekly prayer meeting, found she was being robbed, and she shouted out, "Acts 2:38: 'Repent & be baptized & your sins will be forgiven.'" The robber quickly gave up & the lady rang the police. While handcuffing the criminal, a policeman said, "Gee mate, you gave up pretty easily. How come you gave up so quickly?" The robber said, "She said she had an axe and two 38's!"
Nina Jobling
Q: Who is the most famous comedian in the Bible? A: Samson, because he brought the house down.
TheLaughFactory
Two old timers were talking after church one day and the one asks the other, "So tell me brother, what did you think of the soul food this morning?" The other replies, "The food was excellent but the service sucked!"
NOAHLOT2
Q: What do you call a nun in a wheelchair? A: Virgin Mobile
Anonymous
What does the Pope use to cut potatoes? El pela papas.
notacholo