Categories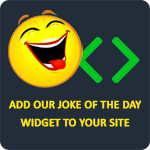 A man gets on a bus, and ends up sitting next to a very attractive nun. Enamored with her, he asks if he can have sex with her. Naturally, she says no, and gets off the bus. The man goes to the bus driver and asks him if he knows of a way for him to have sex with the nun. "Well," says the bus driver, "every night at 8 o'clock, she goes to the cemetery to pray. If you dress up as God, I'm sure you could convince her to have sex with you." The man decides to try it, and dresses up in his best God costume. At eight, he sees the nun and appears before her. "Oh, God!" she exclaims. "Take me with you!" The man tells the nun that she must first have sex with him to prove her loyalty. The nun says yes, but tells him she prefers anal sex. Before you know it, they're getting down to it, having nasty, grunty, loud sex. After it's over, the man pulls off his God disguise. "Ha, ha!" he says, "I'm the man from the bus!" "Ha, ha!" says the nun, removing her costume, "I'm the bus driver!"
Monty & Sam
A husband and wife are in church. The preacher notices that the husband has fallen asleep and says to the wife, "Wake your husband up!" The wife answers, "You're the one who made him fall asleep, you wake him up!"
Anonymous
An old man goes to a church, and is making a confession:
Man: "Father, I am 75 years old. I have been married for 50 years. All these years I had been faithful to my wife, but yesterday I was intimate with an 18 year old."
Father: "When was the last time you made a confession?"
Man: "I never have, I am Jewish."
Father: "Then why are telling me all this?"
Man: "I'm telling everybody!"
TheLaughFactory
A gentleman is preparing to board a plane, when he hears that the Pope is on the same flight. "This is exciting," thinks the gentleman. "Perhaps I'll be able to see him in person." Imagine his surprise when the Pope sits down in the seat next to him. Shortly after take-off, the Pope begins a crossword puzzle. Almost immediately, the Pope turns to the gentleman and says, "Excuse me, but do you know a four letter word referring to a woman that ends in 'unt?'" Only one word leaps to mind. "My goodness," thinks the gentleman, "I can't tell the Pope that. There must be another word." The gentleman thinks for quite a while, and then it hits him. Turning to the Pope, the gentleman says, "I think the word you're looking for is 'aunt.'" "Of course," says the Pope. "Do you have an eraser?"
Kung Fu Cockroach
A Sunday school teacher asked her children on the way to service, "And why is it necessary to be quiet in church?" One little girl replied, "Because people are sleeping."
sarunnece