Categories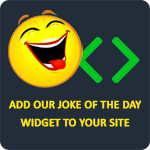 A boy is selling fish on a corner. To get his customers' attention, he is yelling, "Dam fish for sale! Get your dam fish here!" A pastor hears this and asks, "Why are you calling them 'dam fish.'" The boy responds, "Because I caught these fish at the local dam." The pastor buys a couple fish, takes them home to his wife, and asks her to cook the dam fish. The wife responds surprised, "I didn't know it was acceptable for a preacher to speak that way." He explains to her why they are dam fish. Later at the dinner table, he asks his son to pass the dam fish. He responds, "That's the spirit, Dad! Now pass the f*cking potatoes!"
bandajoey92
A gentleman is preparing to board a plane, when he hears that the Pope is on the same flight. "This is exciting," thinks the gentleman. "Perhaps I'll be able to see him in person." Imagine his surprise when the Pope sits down in the seat next to him. Shortly after take-off, the Pope begins a crossword puzzle. Almost immediately, the Pope turns to the gentleman and says, "Excuse me, but do you know a four letter word referring to a woman that ends in 'unt?'" Only one word leaps to mind. "My goodness," thinks the gentleman, "I can't tell the Pope that. There must be another word." The gentleman thinks for quite a while, and then it hits him. Turning to the Pope, the gentleman says, "I think the word you're looking for is 'aunt.'" "Of course," says the Pope. "Do you have an eraser?"
Anonymous
A husband and wife are in church. The preacher notices that the husband has fallen asleep and says to the wife, "Wake your husband up!" The wife answers, "You're the one who made him fall asleep, you wake him up!"
Anonymous
A priest, a minister, and a rabbi want to see who's best at his job. So they each go into the woods, find a bear, and attempt to convert it. Later they get together. The priest begins: "When I found the bear, I read to him from the Catechism and sprinkled him with holy water. Next week is his first communion." "I found a bear by the stream," says the minister, "and preached God's holy word. The bear was so mesmerized that he let me baptize him." They both look down at the rabbi, who is lying on a gurney in a body cast. "Looking back," he says, "maybe I shouldn't have started with the circumcision."
TheLaughFactory
Wilson runs a nail factory and decides his business needs a bit of advertising. He has a chat with a friend who works in marketing, and he offers to make a television ad for Wilson's Nails. "Give me a week," says the friend, "and I'll be back with a tape." A week goes by and the marketing executive comes to see Wilson. He puts a cassette in the video and presses play. A Roman soldier is busy nailing Jesus to the cross. He turns to face the camera and says with a grin, "Use Wilson's Nails, they'll hold anything." Wilson goes mad, shouting, "What is the matter with you? They'll never show that on television. Give it another try, but no more Romans crucifying Jesus!" Another week goes by and the marketing man comes back to see Wilson with another tape. He puts it in the machine and hits play. This time the camera pans out from a Roman standing with his arms folded to show Jesus on the cross. The Roman looks up at him and says, "Wilson's Nails, they'll hold anything." Wilson is beside himself. "You don't understand. I don't want anything with Jesus on the cross! Now listen, I'll give you one last chance. Come back in a week with an advertisement that I can broadcast." A week passes and Wilson waits impatiently. The marketing executive arrives and puts on the new video. A naked man with long hair, gasping for breath, is running across a field. About a dozen Roman soldiers come over the hill, hot on his trail. One of them turns to the camera and says, "If only we had used Wilson's Nails!"
PerryJo