Categories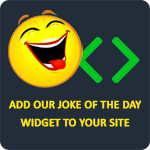 A little boy wants a bike for Christmas really badly, but the kid is a real bad seed, and he knows it. He writes a letter to Jesus. "Dear Jesus, if I get a bike for Christmas, I'll be good for a whole week." He thinks about it, crosses out what he wrote, and says, "I can't be good for a whole week, I'll be good for five days." He crosses that out and writes, "I'll be good for four days." Then he thinks again and says, "Can't do that." He gets down to one day and says, "I can't even be good for a day." Then in frustration, goes in his mother's room and get the statue of the Virgin Mary, wraps it up in a blanket, puts it in a paper bag, throws it in the closet and says, "Dear Jesus, if I don't get a bike for Christmas, you'll never see your mother again!"
dollydew22
What's faster than a cheetah? A Jew with a coupon!
afshani
Three men are traveling on a ship, when they are accosted by the Devil. The Devil proposes that if each man drops something into the sea and he cannot find it, he will be that man's slave. If the Devil does find it, however, he will eat that man up. The first man drops a pure, clear diamond, and immediately gets eaten. The second drops an expensive watch, trying to impress the Devil, and gets eaten. The third man fills a bottle with water and pours it into the sea yelling, "You think I'm a fool? Try finding that!"
chenchen69
Bishop TD Jakes is returning to Texas after a speaking engagement. When his plane arrives, there is a limousine there to transport him to his home in Dallas. As he prepares to get into the limo, he stops and speaks to the driver. "You know," he says, "I am almost 50 years old and I have never driven a limousine. Would you mind if I drove it for a while?" The driver says, "No problem." Bishop TD Jakes gets into the driver's seat, and they head off down the highway. A short distance away sits a rookie state trooper operating his first speed trap. The long black limo goes by him doing 70 in a 55 mph zone. The trooper pulls out, easily catches the limo, and gets out of his patrol car to begin the procedure. The young trooper walks up to the driver's door, and when the glass is rolled down, he is surprised to see who is driving. He immediately excuses himself, goes back to his car, and calls his supervisor. He tells the supervisor, "I know we are supposed to enforce the law, but I also know that important people are sometimes given certain courtesies. I need to know what I should do because I have stopped a very important person." The supervisor asks, "Is it the Governor?" The young trooper says, "No, he's more important than that." The supervisor says, "Oh, so it's the President." The young trooper says, "No, he's even more important than that." The supervisor finally asks, "Well then, who is it?" The young trooper says, "I think it's Jesus, because he's got TD Jakes for a chauffeur!!!"
mslataprada
What is the difference between acne and a Catholic priest? Acne usually comes on a boy's face after he turns 12.
Rhyknow