Categories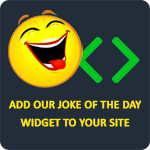 Josey wasn't the best pupil at Sunday school. She often fell asleep and one day while she was sleeping, the teacher asked her a question. "Who is the creator of the universe?" Joe was sitting next to Josey and decided to poke her with a pin to wake her up. Josey jumped and yelled, "God almighty!" The teacher congratulated her. A little later the teacher asked her another question, "Tell me who is our lord and savior?" Joe poked Josey again and she yelled out, "Jesus Christ!" The teacher congratulated her again. Later on the teacher asked, "What did Eve say to Adam after their 26th child?" Joe poked Josey again and she shouted, "If you stick that thing in me again, I'll snap it in half and stick it up your ass!"
I\'m hilarious
A little boy wants a bike for Christmas really badly, but the kid is a real bad seed, and he knows it. He writes a letter to Jesus. "Dear Jesus, if I get a bike for Christmas, I'll be good for a whole week." He thinks about it, crosses out what he wrote, and says, "I can't be good for a whole week, I'll be good for five days." He crosses that out and writes, "I'll be good for four days." Then he thinks again and says, "Can't do that." He gets down to one day and says, "I can't even be good for a day." Then in frustration, goes in his mother's room and get the statue of the Virgin Mary, wraps it up in a blanket, puts it in a paper bag, throws it in the closet and says, "Dear Jesus, if I don't get a bike for Christmas, you'll never see your mother again!"
dollydew22
A bus full of ugly people had a head on collision with a truck. When they died, God granted all of them one wish. The first person said, "I want to be gorgeous." God snapped his fingers and it happened. The second person said the same thing and God did the same thing. This want on and on throughout the group. God noticed the last man in line was laughing hysterically. By the time God got to the last ten people, the last man was laughing and rolling on the ground. When the man's turn came, he laughed and said, "I wish they were all ugly again."
LOVE LAUGH FACTORY
Two nuns were riding their bicycles down the street. The first nun says, "I've never came this way before." The second nun says, "Yeah, it's the cobblestones!"
Stevie
Three men are traveling on a ship, when they are accosted by the Devil. The Devil proposes that if each man drops something into the sea and he cannot find it, he will be that man's slave. If the Devil does find it, however, he will eat that man up. The first man drops a pure, clear diamond, and immediately gets eaten. The second drops an expensive watch, trying to impress the Devil, and gets eaten. The third man fills a bottle with water and pours it into the sea yelling, "You think I'm a fool? Try finding that!"
chenchen69