Categories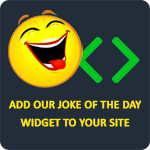 If Mary had Jesus, and Jesus is the lamb of God, does that mean Mary had a little lamb?
la awsome
Three guys are at the gates of Heaven, and God tells them, "We have a special today! If you died a terrible death, you're in for free." So God asks the first guy his story. "I was a hard working man and a loving husband, but I began to suspect that my wife was cheating on me. One day, I called in sick to work and left for home to hide and closely watch my apartment. I saw a man go in, and I decided to wait a few minutes to catch them in the act. Then, I started banging on my door. They wouldn't open it, so I broke down the door and walked in to see my wife sitting naked, but the man wasn't in sight. I went to the balcony, where I saw a naked man hanging on the edge. I began to stomp on his hands until he fell down, but there were bushes, so I got my fridge and tossed it on him. In the process of tossing the fridge, I also fell over and died." God replies, "Wow, that's pretty bad, finding out your wife cheated and falling off your balcony. You pass." The second guy says, "God, my only crime was that I enjoyed dancing naked in my apartment while eating pickles out of the jar. I was doing just that one day, when I slipped on a pickle and fell over my balcony. Luckily, I was able to grab on to the ledge below mine. After a few minutes, a man came and I thought he was going to rescue me, but he began to stomp on my hands. I fell, but luckily, I fell into the bushes. I thought I had survived, but that man threw a fridge at me and I died!" God replies, "Wow, that's very cruel, being crushed to death." The third man says, "I died naked in a fridge."
xCarthage
A man is angry because he has it in his head that someone stole his wallet. He walks into a church to steal someone else's wallet, but he has a change of heart during the service. He confesses to the priest afterwards about what his intentions had initially been. The priest asks, "What made you change your mind?" The man says, "In your sermon on the Ten Commandments when you got to 'Thou shall not commit adultery,' I remembered where I left my wallet!"
Mark My Words
In surgery for a heart attack, a middle-aged woman has a vision of God by her bedside. "Will I die?" she asks. God says, "No. You have 30 more years to live." With 30 years to look forward to, she decides to make the best of it. So since she's in the hospital, she gets breast implants, liposuction, a tummy tuck, hair transplants, and collagen injections in her lips. She looks great! The day she's discharged, she exits the hospital with a swagger, crosses the street, and is immediately hit by an ambulance and killed. Up in heaven, she sees God. "You said I had 30 more years to live," she complains. "That's true," says God. "So what happened?" she asks. God shrugs, "I didn't recognize you."
TheLaughFactory
Q: What kind of car does Jesus drive?
A: A Christler.
Legend45