Categories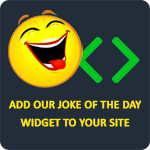 If Mary had Jesus, and Jesus is the lamb of God, does that mean Mary had a little lamb?
la awsome
Q: What kind of car does Jesus drive?
A: A Christler.
Legend45
A gentleman is preparing to board a plane, when he hears that the Pope is on the same flight. "This is exciting," thinks the gentleman. "Perhaps I'll be able to see him in person." Imagine his surprise when the Pope sits down in the seat next to him. Shortly after take-off, the Pope begins a crossword puzzle. Almost immediately, the Pope turns to the gentleman and says, "Excuse me, but do you know a four letter word referring to a woman that ends in 'unt?'" Only one word leaps to mind. "My goodness," thinks the gentleman, "I can't tell the Pope that. There must be another word." The gentleman thinks for quite a while, and then it hits him. Turning to the Pope, the gentleman says, "I think the word you're looking for is 'aunt.'" "Of course," says the Pope. "Do you have an eraser?"
Anonymous
Q: Why do Jewish mothers make great parole officers?
A: They never let anyone finish a sentence!
Bookworm
Two little boys were known troublemakers, stealing everything they could get their hands, even from the church. One day a priest stopped one of the boys and asked, "Where is God?" The boy shrugged and the priest repeated, "Where is God?" The boy ran out of the cathedral crying to his home where he hid in a closet. Eventually his brother found him and asked, "What's wrong?" The crying boy replied, "We're in trouble now! God is missing and they think we took him!"
Anonymous