Categories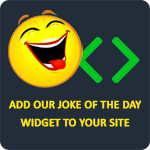 Two little boys were known troublemakers, stealing everything they could get their hands, even from the church. One day a priest stopped one of the boys and asked, "Where is God?" The boy shrugged and the priest repeated, "Where is God?" The boy ran out of the cathedral crying to his home where he hid in a closet. Eventually his brother found him and asked, "What's wrong?" The crying boy replied, "We're in trouble now! God is missing and they think we took him!"
Anonymous
Q: Why do Jewish mothers make great parole officers?
A: They never let anyone finish a sentence!
Bookworm
Four nuns are in line to go into heaven. God asks the first nun if she has ever sinned. She says, "Well, I've seen a penis." So God puts holy water on her eyes and lets her enter. He asks the second nun the same thing and she says, "I've held a penis," so he puts holy water on her hands and lets her enter. Then the fourth nun skips the third nun in line and God asks why she did that. The 4th nun replies, "Well, I need to gargle it before she sits in it."
Anonymous
A husband and wife are in church. The preacher notices that the husband has fallen asleep and says to the wife, "Wake your husband up!" The wife answers, "You're the one who made him fall asleep, you wake him up!"
Anonymous
Q: Why wasn't Jesus born in Australia?
A: God couldn't find three wise men and a virgin.
Anonymous