Categories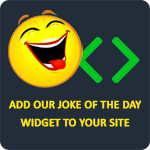 Q: What kind of car does Jesus drive?
A: A Christler.
Legend45
Q: Why do Jewish mothers make great parole officers?
A: They never let anyone finish a sentence!
Bookworm
Four nuns are in line to go into heaven. God asks the first nun if she has ever sinned. She says, "Well, I've seen a penis." So God puts holy water on her eyes and lets her enter. He asks the second nun the same thing and she says, "I've held a penis," so he puts holy water on her hands and lets her enter. Then the fourth nun skips the third nun in line and God asks why she did that. The 4th nun replies, "Well, I need to gargle it before she sits in it."
Anonymous
Late one night, a preacher was driving on a country road and had a wreck. A farmer stopped and said, "Sir, are you okay?" The preacher said, "Yes, I had the Lord riding with me." The farmer said, "Well, you better let him ride with me, because you're gonna kill him."
Anonymous
Q: Why wasn't Jesus born in Australia?
A: God couldn't find three wise men and a virgin.
Anonymous