Categories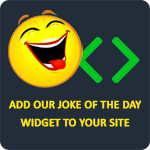 Q: What kind of car does Jesus drive?
A: A Christler.
Legend45
Late one night, a preacher was driving on a country road and had a wreck. A farmer stopped and said, "Sir, are you okay?" The preacher said, "Yes, I had the Lord riding with me." The farmer said, "Well, you better let him ride with me, because you're gonna kill him."
Anonymous
Wilson runs a nail factory and decides his business needs a bit of advertising. He has a chat with a friend who works in marketing, and he offers to make a television ad for Wilson's Nails. "Give me a week," says the friend, "and I'll be back with a tape." A week goes by and the marketing executive comes to see Wilson. He puts a cassette in the video and presses play. A Roman soldier is busy nailing Jesus to the cross. He turns to face the camera and says with a grin, "Use Wilson's Nails, they'll hold anything." Wilson goes mad, shouting, "What is the matter with you? They'll never show that on television. Give it another try, but no more Romans crucifying Jesus!" Another week goes by and the marketing man comes back to see Wilson with another tape. He puts it in the machine and hits play. This time the camera pans out from a Roman standing with his arms folded to show Jesus on the cross. The Roman looks up at him and says, "Wilson's Nails, they'll hold anything." Wilson is beside himself. "You don't understand. I don't want anything with Jesus on the cross! Now listen, I'll give you one last chance. Come back in a week with an advertisement that I can broadcast." A week passes and Wilson waits impatiently. The marketing executive arrives and puts on the new video. A naked man with long hair, gasping for breath, is running across a field. About a dozen Roman soldiers come over the hill, hot on his trail. One of them turns to the camera and says, "If only we had used Wilson's Nails!"
PerryJo
Q: Why wasn't Jesus born in Australia?
A: God couldn't find three wise men and a virgin.
Anonymous
Every ten years, the monks in the monastery are allowed to break their vow of silence to speak two words. Ten years go by and it's one monk's first chance. He thinks for a second before saying, "Food bad." Ten years later, he says, "Bed hard." It's the big day, a decade later. He gives the head monk a long stare and says, "I quit." "I'm not surprised," the head monk says. "You've been complaining ever since you got here."
TheLaughFactory