Categories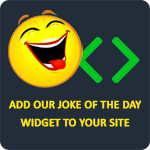 Q: Why wasn't Jesus born in Australia?
A: God couldn't find three wise men and a virgin.
Anonymous
Late one night, a preacher was driving on a country road and had a wreck. A farmer stopped and said, "Sir, are you okay?" The preacher said, "Yes, I had the Lord riding with me." The farmer said, "Well, you better let him ride with me, because you're gonna kill him."
Anonymous
Every ten years, the monks in the monastery are allowed to break their vow of silence to speak two words. Ten years go by and it's one monk's first chance. He thinks for a second before saying, "Food bad." Ten years later, he says, "Bed hard." It's the big day, a decade later. He gives the head monk a long stare and says, "I quit." "I'm not surprised," the head monk says. "You've been complaining ever since you got here."
TheLaughFactory
A new priest does his first mass. He is very nervous and he stammers his way through. Afterwards, he approaches the Monsignor to ask how he thought it went. "Well," says the monsignor, "Try a little wine before you do your next mass." So the next time the priest delivers a real fire and brimstone sermon, after which he asks the monsignor, "How did I do this time?" The fellow clergyman replies, "You did well, son, but I need to clear up a few of your misconceptions. First off, it was the Father, Son, and the Holy Spirit, not 'Big Daddy, Junior, and the Spook.' Next, David slew Goliath; he didn't 'whip the shit out of him.' And last of all we are planning a taffy pulling contest here at St. Peter, not a 'Peter pulling contest at St. Taffy.'
Mark My Words
Q: What do you call a nun in a wheelchair? A: Virgin Mobile
Anonymous