Categories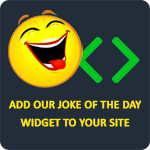 A woman starts dating a doctor. She eventually becomes pregnant and they don't know what to do. About nine months later, just about the time she is going to give birth, a priest goes into the hospital for a prostate gland infection. The doctor says to the woman, "I know what we'll do. After I've operated on the priest, I'll give the baby to him and tell him it was a miracle." "Do you think it will work?" she asks. "It's worth a try," he says. The doctor delivers the baby and then operates on the priest. After the operation, he goes to the priest and says, "Father, you're not going to believe this." "What happened?" asks the priest. "You gave birth to a child!" "But that's impossible!" says the priest. "I just did the operation," insists the doctor. "It's a miracle! Here's your baby." About 15 years go by, and the priest realizes he must tell his son the truth. One day, he sits the boy down and says, "Son, I have something to tell you. I'm not your father." The son says, "What do you mean, you're not my father?" The priest replies, "I am your mother. The archbishop is your father."
Anonymous
A Baptist, a Catholic, and a Mormon are in the maternity ward. The Baptist says, "One more son and I have a basketball team." The Catholic says, "That's nothing, one more kid and I have a baseball team." The Mormon guy says, "That's nothing, one more wife and I have a golf course."
Anonymous
You know what Adam said to Eve? "Watch out, I don't know how big this gets."
Anonymous
What did the Buddhist say to the hot dog vendor? Make me one with everything.
vagrant13
A man walks into the ladies department of Macy's, walks up to the woman behind the counter and says, "I'd like to buy a bra for my wife." "What type of bra?" asks the clerk. "Type?" inquires the man. "There is more than one type?" "Look around," says the saleslady, as she shows a sea of bras in every shape, size, color, and material. "Actually, even with all of this variety, there are really only three types of bras," replies the salesclerk. Confused, the man asks what the types are. The saleslady replies, "The Catholic type, the Salvation Army type, and the Baptist type. Which one do you need?" Still confused, the man asks, "What is the difference between them?" The lady responds, "It is all really quite simple. The Catholic type supports the masses, the Salvation Army type lifts up the fallen, and the Baptist type makes mountains out of mole hills."
mkriley