Categories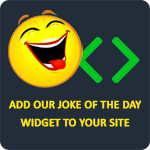 Q: Why did all the hippies go to church on the first day of Lent? A: They heard it was "Hash Wednesday."
NOAHLOT2
Two old timers were talking after church one day and the one asks the other, "So tell me brother, what did you think of the soul food this morning?" The other replies, "The food was excellent but the service sucked!"
NOAHLOT2
A priest, a rabbi, and a dwarf walk into a bar and the bartender says, "What is this, some kind of a joke?!"
trailertrashrnr
Q: Who is the most famous comedian in the Bible? A: Samson, because he brought the house down.
TheLaughFactory
How many Catholic priests does it take to screw in a light bulb? Two. One to screw the light bulb and the other to screw the altar boy in the corner!
secretajntpedro