Categories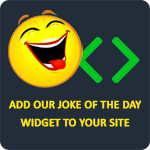 Q: Why did all the hippies go to church on the first day of Lent? A: They heard it was "Hash Wednesday."
NOAHLOT2
It's the day of Jesus' crucifixion, and Peter is consoling Mary at the bottom of the hill in Golgotha. Suddenly, Peter hears Jesus calling to him, summoning him up the hill. Frantically, Peter sets off to make his way to his Savior. Unwillingly, he is stopped by two guards. Again, Jesus calls to Peter, and again, Peter attempts to answer, but the guards bring him to a hault. Peter weeps in remorse. One last time, Jesus moans for Peter's appearance. Determined not to fail his Grace, Peter shoves past the standing guards and triumphantly stands at the bleeding feet of his King. "My Lord, anything for you. What is it, my King?" "Peter," Jesus painstakingly replies. "Yes, what is it you must tell me?" Peter anxiously asks. "Peter, I, I, I can see your house from up here."
Bruhkouski
Q: Who is the most famous comedian in the Bible? A: Samson, because he brought the house down.
TheLaughFactory
Q: What's the difference between a painting of Jesus and the real Jesus? A: It only takes one nail to hang the painting.
Anonymous
You know what Adam said to Eve? "Watch out, I don't know how big this gets."
Anonymous