Categories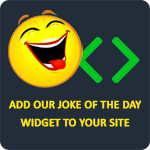 Three priests and three young boys are on a boat on the ocean. The boat starts to sink and first priest says, "Save the boys!" The second priest says, "F*ck the boys!" The third priest says, "Do you think we have time?!"
winett
Q: What do you call a rabbi with heartburn?
A: An acidic Jew.
TheLaughFactory
A woman starts dating a doctor. She eventually becomes pregnant and they don't know what to do. About nine months later, just about the time she is going to give birth, a priest goes into the hospital for a prostate gland infection. The doctor says to the woman, "I know what we'll do. After I've operated on the priest, I'll give the baby to him and tell him it was a miracle." "Do you think it will work?" she asks. "It's worth a try," he says. The doctor delivers the baby and then operates on the priest. After the operation, he goes to the priest and says, "Father, you're not going to believe this." "What happened?" asks the priest. "You gave birth to a child!" "But that's impossible!" says the priest. "I just did the operation," insists the doctor. "It's a miracle! Here's your baby." About 15 years go by, and the priest realizes he must tell his son the truth. One day, he sits the boy down and says, "Son, I have something to tell you. I'm not your father." The son says, "What do you mean, you're not my father?" The priest replies, "I am your mother. The archbishop is your father."
Anonymous
Four nuns die and are in line to get into Heaven. St. Peter appears and tells them they can get in, but must do one last confession. The first nun confesses to seeing a penis. St. Peter instructs her to rinse her eyes in holy water, say 10 Hail Marys, and she can get in. The second nun admits to touching a penis. St. Peter instructs her to rinse her hand in holy water, say 20 Hail Marys, and she can get in. Seeing this, the fourth nun taps the third nun's shoulder and says, "Can I cut in front of you? I'm going to need to rinse my mouth and I know you need to rinse your asshole."
preciusbuterfly
A Baptist, a Catholic, and a Mormon are in the maternity ward. The Baptist says, "One more son and I have a basketball team." The Catholic says, "That's nothing, one more kid and I have a baseball team." The Mormon guy says, "That's nothing, one more wife and I have a golf course."
Anonymous