Categories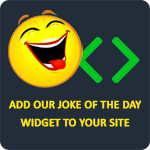 What's the difference between a Jewish wife and a Catholic wife? A Jewish wife has real diamonds, a Catholic wife has real orgasms.
Anonymous
Q: What's the difference between a painting of Jesus and the real Jesus? A: It only takes one nail to hang the painting.
Anonymous
Three nuns walk into a bar, the fourth one ducks.
kaleajean
Adam was lonely, so he asked God for company. God agreed, but said, "Don't let her in the water." Adam agreed and Eve appeared the next day. Adam was so excited, he went in the lake to get cleaned up. Eve wanted to go in, but knew she wasn't allowed. A few months go by and she gets tired of not being able to go in the water. As she runs to the water, she tears off her fig leaf and splash! God says, "Oh great! Now the fish will smell like that!"
TRUMBATURE
What's the best part about being a Rabbi? You get to keep the tips.
jel562