Categories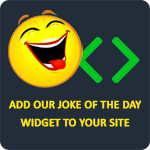 Q: How do astronomers organize a party?
A: They planet.
Wenz
Scientists have proven that there are two things in the air that have been known to cause women to get pregnant: their legs.
Mark My Words
Helium walks into a bar and asks for a drink. The bartender says, "Sorry, we don't serve noble gases here." Helium doesn't react.
Anonymous
Q: Why did the chicken cross the möbius strip?
A: To get to the same side.
square boy
Q: Why do centipedes have 100 legs?
A: So they can walk.
Anonymous
1