Categories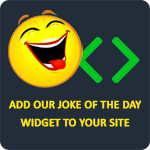 On hearing that her elderly grandfather has just passed away, Katie goes straight to her grandparents' house to visit her 95-year-old grandmother and comfort her. When she asks how her grandfather has died, her grandmother replies, "He had a heart attack while we were making love on Sunday morning." Horrified, Katie tells her grandmother that two people nearly 100 years old having sex will surely be asking for trouble. "Oh no, my dear. Many years ago, realizing our advanced age, we figured out the best time to do it was when the church bells would start to ring. It was just the right rhythm. It was nice, slow, and even. Nothing too strenuous, simply in on the ding and out on the dong." She pauses, wipes away a tear and then continues, "And if that damned ice cream truck hadn't come along, he'd still be alive today!"
moraanush
Q: What kind of bees make milk instead of honey?
A: Boo-bees
academik
Mickey Mouse is in the middle of a nasty divorce from Minnie Mouse. Mickey spoke to the judge about the separation. "I'm sorry Mickey, but I can't legally separate you two on the grounds that Minnie is mentally insane," said the judge. Mickey replied, "I didn't say she was mentally insane, I said that she's f*cking Goofy!"
5emtio4yra
What do a pizza boy and a gyneocologist have in common? They both smell it but they can't eat it.
Babydoggie
There is an overweight guy who is watching TV. A commercial comes on for a guaranteed weight loss of 10 pounds in a week. So the guy, thinking what the hell, signs up for it. Next morning an incredibly beautiful woman is standing at his door in nothing but a pair of running shoes and a sign about her neck that reads, "If you can catch me, you can have me." As soon as he sees her, she takes off running. He tries to catch her, but is unable. This continues for a week, at the end of which, the man has lost 10 pounds. After this he tries the next weight loss plan, 15 pounds in a week. The next morning an even more beautiful woman is standing at the door, in similar conditions. The same happens with her as the first woman, except he almost catches her. This continues for a week, at the end of which he, as suspected, weighs 15 pounds less. Excited about this success, he decides to do the master program. Before he signs up, he is required to sign a waiver and is warned about the intensity of this plan. Still he signs up. The next morning, waiting at the door, is a hulking 300 pound muscle man with nothing but a pair of running shoes, a raging erection, and a sign around his neck that says, "If I catch you, you're mine!" The man was supposed to lose 25 pounds in the week; he lost 34.
Anonymous