Categories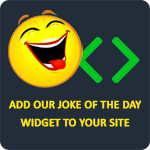 A little boy with diarrhea tells his mom that he needs Viagra. The mom asks, "Why on Earth do you need that?!" The little boy says, "Isn't that what you give daddy when his sh*t doesn't get hard?"
kprecious
A guy goes to the store to buy condoms. "Do you want a bag?" the cashier asks. "No," the guy says, "she's not that ugly."
TheLaughFactory
A man joins a soccer team and his new teammates inform him, "At your first team dinner as the new guy, you will have to give us a talk about sex." The evening arrives and he gives a detailed, humorous account of his sex life. When he got home, his wife asked how the evening went and not wanting to lie, but also not wanting to explain exactly what happened, he said, "Oh, I had to make a talk about yachting," his wife thought this a little peculiar but said nothing more and went to sleep. The next day she bumped into one of his new teammates at the supermarket and asked, "I heard my husband had to make a speech last night. How did it go?" His mate said smiling, 'Oh, it was excellent! Your husband is clearly very experienced!." The wife looked confused and replied to his mate, "Strange, he has only done it twice and the second time he was sick."
Anonymous
On hearing that her elderly grandfather has just passed away, Katie goes straight to her grandparents' house to visit her 95-year-old grandmother and comfort her. When she asks how her grandfather has died, her grandmother replies, "He had a heart attack while we were making love on Sunday morning." Horrified, Katie tells her grandmother that two people nearly 100 years old having sex will surely be asking for trouble. "Oh no, my dear. Many years ago, realizing our advanced age, we figured out the best time to do it was when the church bells would start to ring. It was just the right rhythm. It was nice, slow, and even. Nothing too strenuous, simply in on the ding and out on the dong." She pauses, wipes away a tear and then continues, "And if that damned ice cream truck hadn't come along, he'd still be alive today!"
moraanush
How do you know Barbie is not a slut? Because her legs don't open.
comedyjunkie