Categories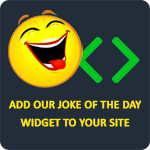 A man joins a soccer team and his new teammates inform him, "At your first team dinner as the new guy, you will have to give us a talk about sex." The evening arrives and he gives a detailed, humorous account of his sex life. When he got home, his wife asked how the evening went and not wanting to lie, but also not wanting to explain exactly what happened, he said, "Oh, I had to make a talk about yachting," his wife thought this a little peculiar but said nothing more and went to sleep. The next day she bumped into one of his new teammates at the supermarket and asked, "I heard my husband had to make a speech last night. How did it go?" His mate said smiling, 'Oh, it was excellent! Your husband is clearly very experienced!." The wife looked confused and replied to his mate, "Strange, he has only done it twice and the second time he was sick."
Anonymous
A little boy with diarrhea tells his mom that he needs Viagra. The mom asks, "Why on Earth do you need that?!" The little boy says, "Isn't that what you give daddy when his sh*t doesn't get hard?"
kprecious
A wife comes home late one night and quietly opens the door to her bedroom. From under the blanket, she sees four legs instead of just her husband's two. She reaches for a baseball bat and starts hitting the blanket as hard as she can. Once she's done, she goes to the kitchen to have a drink. As she enters, she sees her husband there, reading a magazine. He says, "Hi darling, your parents have come to visit us, so I let them stay in our bedroom. Did you say hello?"
Eddie k
A guy goes to the store to buy condoms. "Do you want a bag?" the cashier asks. "No," the guy says, "she's not that ugly."
TheLaughFactory
A man gets on a bus, and ends up sitting next to a very attractive nun. Enamored with her, he asks if he can have sex with her. Naturally, she says no, and gets off the bus. The man goes to the bus driver and asks him if he knows of a way for him to have sex with the nun. "Well," says the bus driver, "every night at 8 o'clock, she goes to the cemetery to pray. If you dress up as God, I'm sure you could convince her to have sex with you." The man decides to try it, and dresses up in his best God costume. At eight, he sees the nun and appears before her. "Oh, God!" she exclaims. "Take me with you!" The man tells the nun that she must first have sex with him to prove her loyalty. The nun says yes, but tells him she prefers anal sex. Before you know it, they're getting down to it, having nasty, grunty, loud sex. After it's over, the man pulls off his God disguise. "Ha, ha!" he says, "I'm the man from the bus!" "Ha, ha!" says the nun, removing her costume, "I'm the bus driver!"
Monty & Sam