Categories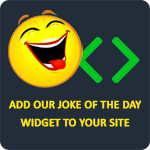 I'm a mailman. At Christmas this year, Mrs. Jankowitz met me at the door and invited me in for a great breakfast spread. After I ate, I thanked her and she said, "There's more." She took me to her bedroom and showed me moves I had never imagined. I told her I had no idea she felt this way. She said, "I don't." I ask, "What was all this about?" She says, "I asked the husband what to give the mailman." He said, "Screw the mailman, breakfast was my idea."
eaglenchamp
One night, Penis and Balls were sitting in a couch. Penis said to Balls, "We are going to a party. Balls said, "F*ck off, you always leave me knocking."
numbninja
A representative for a condom company is on her way to a convention. While rushing through the airport, she drops the briefcase carrying her samples of condoms all over the floor. As she is stuffing all the condoms back into her briefcase, she notices tourists giving her crazy looks. "It's ok, she says, "I am doing a huge convention."
goodmansno1fan
There is more money being spent on breast implants and Viagra today, than on Alzheimer's research. This means that by 2040, there should be a large elderly population with perky boobs, huge erections, and absolutely no recollection of what to do with them.
Todd9978
Drinking gets you in many unpredictable positions. Has your wife or girlfriend ever caught you passed out, sitting on the couch, with your pants around your ankles while you have a kung fu grip on your penis, like you're giving her the thumbs up on marrying such a subtle and discreet man? Well, that wasn't the embarrassing thing about it. The porn on demand had ended, and the previous channel that had popped up was blaring, "Do-Da Dora, Do-Da Dora!"
pajamaMOUTH