Categories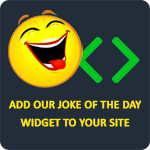 Why did the bald man cut a hole in his pocket? He wanted to run his fingers through his hair.
Anonymous
A super hot chick walks into her church and says to the priest, "Forgive me Father, for I have sinned." The priest says, "Tell me dear, what's on your mind?" "Well Father, I am a sex addict, and lately I discovered that I like doing it with priests. I had sex with the one from the church two blocks from here, the one five blocks from here, and also the one from the church nearby." The priest says, "It's okay, just pray three times a day for one week and it will all be okay." As the girl tries to go out, the priest says, "Oh, and dont forget that I will always be here for you!"
Davidalxnd
What does Pinocchio's lover say to him? "Lie to me! Lie to me!"
jessicanneby
An old man goes to a church, and is making a confession:
Man: "Father, I am 75 years old. I have been married for 50 years. All these years I had been faithful to my wife, but yesterday I was intimate with an 18 year old."
Father: "When was the last time you made a confession?"
Man: "I never have, I am Jewish."
Father: "Then why are telling me all this?"
Man: "I'm telling everybody!"
TheLaughFactory
An old lady went to visit her dentist. When it was her turn, she sat in the chair, lowered her underpants, and raised her legs. The dentist said, "Excuse me, but I'm not a gynecologist." "I know," said the old lady. "I want you to take my husband's teeth out."
Anonymous