Categories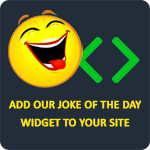 What is the difference between jelly and jam? You can't jelly your dick in a vagina.
Anonymous
An old lady went to visit her dentist. When it was her turn, she sat in the chair, lowered her underpants, and raised her legs. The dentist said, "Excuse me, but I'm not a gynecologist." "I know," said the old lady. "I want you to take my husband's teeth out."
Anonymous
I'm a mailman. At Christmas this year, Mrs. Jankowitz met me at the door and invited me in for a great breakfast spread. After I ate, I thanked her and she said, "There's more." She took me to her bedroom and showed me moves I had never imagined. I told her I had no idea she felt this way. She said, "I don't." I ask, "What was all this about?" She says, "I asked the husband what to give the mailman." He said, "Screw the mailman, breakfast was my idea."
eaglenchamp
What's the difference between kinky and perverted? Kinky is when you tickle your girlfriend with a feather, perverted is when you use the whole bird.
LFMOD
A representative for a condom company is on her way to a convention. While rushing through the airport, she drops the briefcase carrying her samples of condoms all over the floor. As she is stuffing all the condoms back into her briefcase, she notices tourists giving her crazy looks. "It's ok, she says, "I am doing a huge convention."
goodmansno1fan