Categories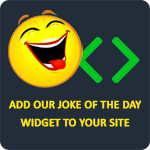 Why do women wear panties with flowers on them? In loving memory of all the faces that have been buried there.
tiddliewinks
Maria, a devout Catholic, got married and had 15 children. After her first husband died, she remarried and had 15 more children. A few weeks after her second husband died, Maria also passed away. At Maria's funeral, the priest looked skyward and said, "At last, they're finally together." Her sister sitting in the front row said, "Excuse me, Father, but do you mean she and her first husband, or she and her second husband?" The priest replied, "I mean her legs."
Otto Stewart
One day Little Johnny asks his Mum, "How come when I come in to your room you and you're on top of Daddy, you say you're making a sandwich, but after a while I come in again, you're eating a sausage?!"
chloe99
A man and his wife go to their honeymoon hotel for their 25th anniversary. As the couple reflected on that magical evening 25 years ago, the wife asked the husband, "When you first saw my naked body in front of you, what was going through your mind?" The husband replied, "All I wanted to do was to f*ck your brains out, and suck your t*ts dry." Then, as the wife undressed, she asked, "What are you thinking now?" He replied, "It looks as if I did a pretty good job."
joshuapulido
A guy and his wife are sitting and watching a boxing match on television. The husband sighs and complains, "This is disappointing. It only lasted for 30 seconds!" "Good," replied his wife. "Now you know how I always feel."
Kid.KT