Categories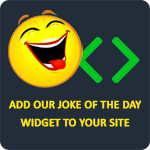 A married man was having an affair with his secretary. One day, their passions overcame them in the office and they took off for her house. Exhausted from the afternoon's activities, they fell asleep and awoke at around 8 p.m. As the man threw on his clothes, he told the woman to take his shoes outside and rub them through the grass and dirt. Confused, she nonetheless complied and he slipped into his shoes and drove home. "Where have you been?" demanded his wife when he entered the house. "Darling," replied the man, "I can't lie to you. I've been having an affair with my secretary. I fell asleep in her bed and didn't wake up until eight o'clock." The wife glanced down at his shoes and said, "You liar! You've been playing golf!"
Anonymous
A man and his wife go to their honeymoon hotel for their 25th anniversary. As the couple reflected on that magical evening 25 years ago, the wife asked the husband, "When you first saw my naked body in front of you, what was going through your mind?" The husband replied, "All I wanted to do was to f*ck your brains out, and suck your t*ts dry." Then, as the wife undressed, she asked, "What are you thinking now?" He replied, "It looks as if I did a pretty good job."
joshuapulido
One weekend, a husband is in the bathroom shaving when the local kid Bubba he hired to mow his lawn, comes in to pee. The husband slyly looks over and is shocked at how immensely endowed Bubba is. He can't help himself, and asks Bubba what his secret is. "Well," says Bubba, "every night before I climb into bed with a girl, I whack my penis on the bedpost three times. It works, and it sure impresses the girls!" The husband was excited at this easy suggestion and decided to try it that very night. So before climbing into bed with his wife, he took out his penis and whacked it three times on the bedpost. His wife, half-asleep, said, "Bubba? Is that you?"
joejoej13
A professor was giving a lecture on involuntary muscular contractions to his first year medical students. Realizing that this was not the most riveting subject, he decided to lighten the mood. He pointed to a young woman in the front row and asked, "Do you know what your asshole is doing while you're having an orgasm?" She replied, "He's probably playing golf with his friends."
classxsick
There's an elderly couple who has reached that point in life, where sex isn't part of the itinerary anymore. One night, the wife turns to her husband and says, "Everytime one of us wants to have a bit of a slap and tickle, we just have to say, "Washing machine.'" A night passes, and the husband leans over and whispers, "Washing machine." The wife gives him a shove and informs him that she has a headache. A few nights go by and the same thing happens, but the husband is determined and he reckons he'll just give it one more try. He leans over and whispers seductively, "Washing machine." Yet again, the wife turns him away. However, a few moments pass and the wife's needs arises so she rolls over and recites the word, but the husband turns over and says, "Sorry love, it was only a small wash so I did it by hand."
fe11robk