Categories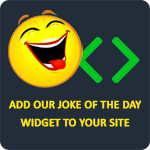 An old lady went to visit her dentist. When it was her turn, she sat in the chair, lowered her underpants, and raised her legs. The dentist said, "Excuse me, but I'm not a gynecologist." "I know," said the old lady. "I want you to take my husband's teeth out."
Anonymous
Two buddies were sharing drinks while discussing their wives. "Do you and your wife ever do it doggie style?" asked the one. "Well, not exactly." His friend replied, "She's more into the trick dog aspect of it." "Oh, I see, kinky, huh?" "Well, not exactly. I sit up and beg, and she rolls over and plays dead."
WetNCreamy69
An old man goes to a church, and is making a confession:
Man: "Father, I am 75 years old. I have been married for 50 years. All these years I had been faithful to my wife, but yesterday I was intimate with an 18 year old."
Father: "When was the last time you made a confession?"
Man: "I never have, I am Jewish."
Father: "Then why are telling me all this?"
Man: "I'm telling everybody!"
TheLaughFactory
One night, Penis and Balls were sitting in a couch. Penis said to Balls, "We are going to a party. Balls said, "F*ck off, you always leave me knocking."
numbninja
Did you know there's a speed limit for sex? When you hit 69, you have to flip a you turn.
pulga10