Categories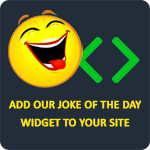 One day, there were two boys playing by a stream. One of the young boys saw a bush and went over to it. The other boy couldn't figure out why his friend was at the bush for so long. The other boy went over to the bush and looked. The two boys were looking at a woman bathing naked in the stream. All of a sudden, the second boy took off running. The first boy couldn't understand why he ran away, so he took off after his friend. Finally, he caught up to him and asked why he ran away. The boy said to his friend, "My mom told me if I ever saw a naked lady, I would turn to stone, and I felt something getting hard, so I ran."
sponger619
A little boy caught his mom and dad having sex. After, he asked, "What were you and daddy doing?" The mom said, "We were baking a cake." A few days later, the little boy asked his mom, "Were you and daddy baking a cake?" She said yes, and asked him how he knew. He answered, "Because I licked the frosting off the couch."
jbaby143
There was an old couple laying in bed. The man turns and tells the woman, "If you want to have sex, pull on my dick once. If you don't want to have sex, pull on my dick one hundred times."
RealSweetsLA
A guy walks into a pub and sees a sign hanging over the bar which reads, "Cheese Sandwich: $1.50; Chicken Sandwich: $2.50; Hand Job: $10.00." Checking his wallet for the necessary payment, he walks up to the bar and beckons to one of the three exceptionally attractive blondes serving drinks to an eager-looking group of men. "Yes?" she enquires with a knowing smile, "Can I help you?" "I was wondering," whispers the man, "Are you the one who gives the hand jobs?" "Yes," she purrs, "I am." The man replies, "Well, go wash your hands, I want a cheese sandwich!"
Tapatio1974
A boy says to a girl, "So, sex at my place?" "Yeah!" "Okay, but I sleep in a bunk bed with my younger brother, and he thinks we're making sandwiches, so we have to have a code. Cheese means faster and tomato means harder, okay?" Later on the girl is yelling, "Cheese cheese, tomato tomato!" The younger brother says, "Stop making sandwiches! You're getting mayo all over my bed!"
jalvarez100