Categories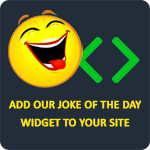 At school, Little Johnny's classmate tells him that most adults are hiding at least one dark secret, so it's very easy to blackmail them by saying, "I know the whole truth." Little Johnny decides to go home and try it out.

Johnny's mother greets him at home, and he tells her, "I know the whole truth." His mother quickly hands him $20 and says, "Just don't tell your father." Quite pleased, the boy waits for his father to get home from work, and greets him with, "I know the whole truth." The father promptly hands him $40 and says, "Please don't say a word to your mother."

Very pleased, the boy is on his way to school the next day when he sees the mailman at his front door. The boy greets him by saying, "I know the whole truth." The mailman immediately drops the mail, opens his arms, and says, "Then come give your Daddy a great big hug!"
Zerop
A guy walks into a pub and sees a sign hanging over the bar which reads, "Cheese Sandwich: $1.50; Chicken Sandwich: $2.50; Hand Job: $10.00." Checking his wallet for the necessary payment, he walks up to the bar and beckons to one of the three exceptionally attractive blondes serving drinks to an eager-looking group of men. "Yes?" she enquires with a knowing smile, "Can I help you?" "I was wondering," whispers the man, "Are you the one who gives the hand jobs?" "Yes," she purrs, "I am." The man replies, "Well, go wash your hands, I want a cheese sandwich!"
Tapatio1974
A woman places an ad in the local newspaper. "Looking for a man with three qualifications: won't beat me up, won't run away from me, and is great in bed." Two days later her doorbell rings. "Hi, I'm Tim. I have no arms so I won't beat you, and no legs so I won't run away." "What makes you think you are great in bed?" the woman retorts. Tim replies, "I rang the doorbell, didn't I?"
Anonymous
"Babe is it in?" "Yea." "Does it hurt?" "Uh huh." "Let me put it in slowly." "It still hurts." "Okay, let's try another shoe size."
guzz
There is a cucumber, a pickle, and a penis. They are complaining about their lives. The cucumber says, "My life sucks. I'm put in salads, and to top it off, they put ranch on me as well. My life sucks." The pickle says, "That's nothing compared to my life. I'm put in vinegar and stored away. Boy my life boring. I hate life." The penis says, "Why are you guys complaining? My life is so messed up that I feel like shooting myself. They put me in a plastic bag, put me in a cave, and make me do push-ups until I throw up."
jerryfrontier07