Categories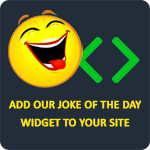 "Babe is it in?" "Yea." "Does it hurt?" "Uh huh." "Let me put it in slowly." "It still hurts." "Okay, let's try another shoe size."
guzz
There is a cucumber, a pickle, and a penis. They are complaining about their lives. The cucumber says, "My life sucks. I'm put in salads, and to top it off, they put ranch on me as well. My life sucks." The pickle says, "That's nothing compared to my life. I'm put in vinegar and stored away. Boy my life boring. I hate life." The penis says, "Why are you guys complaining? My life is so messed up that I feel like shooting myself. They put me in a plastic bag, put me in a cave, and make me do push-ups until I throw up."
jerryfrontier07
Sarah goes to school, and the teacher says, "Today we are going to learn multi-syllable words, class. Does anybody have an example of a multi-syllable word?" Sarah waves her hand, "Me, Miss Rogers, me, me!" Miss Rogers says, "All right, Sarah, what is your multi-syllable word?" Sarah says, "Mas-tur-bate." Miss Rogers smiles and says, "Wow, Sarah, that's a mouthful." Sarah says, "No, Miss Rogers, you're thinking of a bl*wjob."
Rodderiqus11
Two cowboys are out on the range talking about their favorite sex position. One says, "I think I enjoy the rodeo position the best." "I don't think I have ever heard of that one," says the other cowboy. "What is it?" "Well, it's where you get your girl down on all four, and you mount her from behind. Then you reach around, cup her t*ts, and whisper in her ear, 'boy these feel almost as nice as your sisters.' Then you try and hold on for 30 seconds."
ballmyloveb
A 70 year old man went to his doctor's office to get a sperm count. The doctor gave the man a jar and said, "Take this jar home and bring me back a sample tomorrow." The next day, the 70 year old man reappears at the doctor's office and gives him the jar, which is as clean and empty as on the previous day. The doctor asks, "What happened?" and the man explains, "Well, doctor, it's like this. First, I tried with my right hand, but nothing. Then, I tried with my left hand, still nothing. Then I asked my wife for help. She tried with her right hand, but nothing. Then her left, but nothing. She even tried with her mouth, first with the teeth in, then with the teeth out, and still nothing. We even called up the lady next door and she tried with both hands, and her mouth too, but nothing." The doctor was shocked! "You asked your neighbor?" The old man replied, "Yep, but no matter what we tried, we couldn't get the darn jar open!"
reifthathief