Categories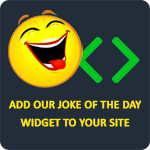 There is a cucumber, a pickle, and a penis. They are complaining about their lives. The cucumber says, "My life sucks. I'm put in salads, and to top it off, they put ranch on me as well. My life sucks." The pickle says, "That's nothing compared to my life. I'm put in vinegar and stored away. Boy my life boring. I hate life." The penis says, "Why are you guys complaining? My life is so messed up that I feel like shooting myself. They put me in a plastic bag, put me in a cave, and make me do push-ups until I throw up."
jerryfrontier07
There was an old couple laying in bed. The man turns and tells the woman, "If you want to have sex, pull on my dick once. If you don't want to have sex, pull on my dick one hundred times."
RealSweetsLA
A typical macho man married a typical good looking lady, and after the wedding, he laid down the following rules. "I'll be home when I want, if I want, what time I want, and I don't expect any hassle from you. I expect a great dinner to be on the table, unless I tell you that I won't be home for dinner. I'll go hunting, fishing, boozing, and card playing when I want with my old buddies, and don't you give me a hard time about it. Those are my rules. Any comments?" His new bride said, "No, that's fine with me. Just understand that there will be sex here at seven o'clock every night, whether you're here or not."
Mariana13
It was Christmas Eve. A woman came home to her husband after a day of busy shopping. Later on that night when she was getting undressed for bed, he noticed a mark on the inside of her leg. "What is that?" he asked. She said, "I visited the tattoo parlor today. On the inside of one leg I had them tattoo 'Merry Christmas,' and on the inside of the other one they tattooed 'Happy New Year.'" Perplexed, he asked, "Why did you do that?" "Well," she replied, "now you can't complain that there's never anything to eat between Christmas and New Years!"
TheLaughFactory
There is an overweight guy who is watching TV. A commercial comes on for a guaranteed weight loss of 10 pounds in a week. So the guy, thinking what the hell, signs up for it. Next morning an incredibly beautiful woman is standing at his door in nothing but a pair of running shoes and a sign about her neck that reads, "If you can catch me, you can have me." As soon as he sees her, she takes off running. He tries to catch her, but is unable. This continues for a week, at the end of which, the man has lost 10 pounds. After this he tries the next weight loss plan, 15 pounds in a week. The next morning an even more beautiful woman is standing at the door, in similar conditions. The same happens with her as the first woman, except he almost catches her. This continues for a week, at the end of which he, as suspected, weighs 15 pounds less. Excited about this success, he decides to do the master program. Before he signs up, he is required to sign a waiver and is warned about the intensity of this plan. Still he signs up. The next morning, waiting at the door, is a hulking 300 pound muscle man with nothing but a pair of running shoes, a raging erection, and a sign around his neck that says, "If I catch you, you're mine!" The man was supposed to lose 25 pounds in the week; he lost 34.
Anonymous