Categories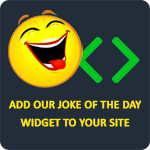 A woman places an ad in the local newspaper. "Looking for a man with three qualifications: won't beat me up, won't run away from me, and is great in bed." Two days later her doorbell rings. "Hi, I'm Tim. I have no arms so I won't beat you, and no legs so I won't run away." "What makes you think you are great in bed?" the woman retorts. Tim replies, "I rang the doorbell, didn't I?"
Anonymous
There was an old couple laying in bed. The man turns and tells the woman, "If you want to have sex, pull on my dick once. If you don't want to have sex, pull on my dick one hundred times."
RealSweetsLA
A typical macho man married a typical good looking lady, and after the wedding, he laid down the following rules. "I'll be home when I want, if I want, what time I want, and I don't expect any hassle from you. I expect a great dinner to be on the table, unless I tell you that I won't be home for dinner. I'll go hunting, fishing, boozing, and card playing when I want with my old buddies, and don't you give me a hard time about it. Those are my rules. Any comments?" His new bride said, "No, that's fine with me. Just understand that there will be sex here at seven o'clock every night, whether you're here or not."
Mariana13
It was Christmas Eve. A woman came home to her husband after a day of busy shopping. Later on that night when she was getting undressed for bed, he noticed a mark on the inside of her leg. "What is that?" he asked. She said, "I visited the tattoo parlor today. On the inside of one leg I had them tattoo 'Merry Christmas,' and on the inside of the other one they tattooed 'Happy New Year.'" Perplexed, he asked, "Why did you do that?" "Well," she replied, "now you can't complain that there's never anything to eat between Christmas and New Years!"
TheLaughFactory
A trucker who has been out on the road for two months stops at a brothel outside Atlanta. He walks straight up to the Madam, drops down $500 and says, "I want your ugliest woman and a grilled cheese sandwich!" The Madam is astonished. "But sir, for that kind of money you could have one of my prettiest ladies and a three-course meal." The trucker replies, "Listen darlin', I'm not horny – I'm just homesick."
rchavez2