Categories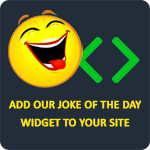 Little Sally came home from school with a smile on her face, and told her mother, "Frankie Brown showed me his weenie today at the playground!" Before the mother could raise a concern, Sally went on to say, "It reminded me of a peanut." Relaxing with a hidden smile, Sally's mom asked, "Really small, was it?" Sally replied, "No, salty." Mom fainted.
ezmoney
A lady goes to the doctor and complains that her husband is losing interest in sex. The doctor gives her a pill, but warns her that it's still experimental. He tells her to slip it into his mashed potatoes at dinner, so that night, she does just that. About a week later, she's back at the doctor, where she says, "Doc, the pill worked great! I put it in the potatoes like you said! It wasn't five minutes later that he jumped up, raked all the food and dishes onto the floor, grabbed me, ripped all my clothes off, and ravaged me right there on the table!" The doctor says, "I'm sorry, we didn't realize the pill was that strong! The foundation will be glad to pay for any damages." "Nah," she says, "that's okay. We're never going back to that restaurant anyway."
Anonymous
A typical macho man married a typical good looking lady, and after the wedding, he laid down the following rules. "I'll be home when I want, if I want, what time I want, and I don't expect any hassle from you. I expect a great dinner to be on the table, unless I tell you that I won't be home for dinner. I'll go hunting, fishing, boozing, and card playing when I want with my old buddies, and don't you give me a hard time about it. Those are my rules. Any comments?" His new bride said, "No, that's fine with me. Just understand that there will be sex here at seven o'clock every night, whether you're here or not."
Mariana13
A woman places an ad in the local newspaper. "Looking for a man with three qualifications: won't beat me up, won't run away from me, and is great in bed." Two days later her doorbell rings. "Hi, I'm Tim. I have no arms so I won't beat you, and no legs so I won't run away." "What makes you think you are great in bed?" the woman retorts. Tim replies, "I rang the doorbell, didn't I?"
Anonymous
A lawyer married a woman who had previously divorced 10 husbands. On their wedding night, she told her new husband, "Please be gentle, I'm still a virgin." "What?" said the puzzled groom. "How can that be if you've been married 10 times?" "Well, Husband #1 was a sales representative. He kept telling me how great it was going to be. Husband #2 was in software services. He was never really sure how it was supposed to function, but he said he'd look into it and get back to me. Husband #3 was from field services. He said everything checked out diagnostically, but he just couldn't get the system up. Husband #4 was in telemarketing. Even though he knew he had the order, he didn't know when he would be able to deliver. Husband #5 was an engineer. He understood the basic process, but wanted three years to research, implement, and design a new state-of-the-art method. Husband #6 was from finance and administration. He thought he knew how, but he wasn't sure whether it was his job or not. Husband #7 was in marketing. Although he had a nice product, he was never sure how to position it. Husband #8 was a psychologist. All he ever did was talk about it. Husband #9 was a gynecologist. All he did was look at it. Husband #10 was a stamp collector. All he ever did was... God! I miss him! But now that I've married you, I'm really excited!" "Good," said the new husband, "but, why?" "You're a lawyer. This time I know I'm going to get screwed!"
brinks09