Categories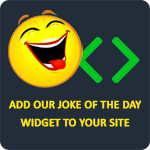 A typical macho man married a typical good looking lady, and after the wedding, he laid down the following rules. "I'll be home when I want, if I want, what time I want, and I don't expect any hassle from you. I expect a great dinner to be on the table, unless I tell you that I won't be home for dinner. I'll go hunting, fishing, boozing, and card playing when I want with my old buddies, and don't you give me a hard time about it. Those are my rules. Any comments?" His new bride said, "No, that's fine with me. Just understand that there will be sex here at seven o'clock every night, whether you're here or not."
Mariana13
A gynecologist notices that a new patient is nervous. While putting on the latex gloves, he asks her if she knows how they make latex gloves. The patient says no. The doctor says, "There is a plant in Mexico full of latex that people of various hand sizes dip their hands into and let them dry. She does not crack a smile, but later she laughs. The doctor says, "What's so funny?" She says, "I'm imagining how they make condoms."
jameskwalton
Three brothers are traveling along a road, and their car dies. They all get out of the car, and start walking to a barn that's a little ways away. When they get their, the farmer comes out of the barn, and offers them a room for one night. He says to the first one, "You can sleep with the pigs," the second guy," you can sleep with the cows", and the third guy, "I like the cut of your jib. You can sleep with my 18 daughters." The next morning, he asks everyone how they slept. The first man said, "I slept like a pig." The second man said ,"I slept like a cow." The third guy said, "I slept like a rabbit. I jumped from hole, to hole, to hole."
AminJimbo
"Daddy, where did I come from?" seven-year-old Rachel asks. It is a moment for which her parents have carefully prepared. They take her into the living room, get out several other books, and explain all they think she should know about sexual attraction, affection, love, and reproduction. Then they both sit back and smile contentedly. "Does that answer your question?" the mom asks. "Not really," the little girl says. "Judy said she came from Detroit. I want to know where I came from."
abpmary
There is a fellow who is talking to his buddy and says, "I don't know what to get my wife for her birthday. She has everything, and besides, she can afford to buy anything she wants. I'm stumped." His buddy says, "I have an idea. Why don't you make up a certificate that says she can have two hours of great sex, any way she wants it. She'll probably be thrilled!" The first fellow does just that. The next day, his buddy asks, "Well, did you take my suggestion? How did it turn out?" "She loved it. She jumped up, thanked me, kissed me on the mouth, and ran out the door yelling, 'I'll see you in two hours!'"
Anonymous