Categories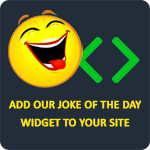 At school, Little Johnny's classmate tells him that most adults are hiding at least one dark secret, so it's very easy to blackmail them by saying, "I know the whole truth." Little Johnny decides to go home and try it out.

Johnny's mother greets him at home, and he tells her, "I know the whole truth." His mother quickly hands him $20 and says, "Just don't tell your father." Quite pleased, the boy waits for his father to get home from work, and greets him with, "I know the whole truth." The father promptly hands him $40 and says, "Please don't say a word to your mother."

Very pleased, the boy is on his way to school the next day when he sees the mailman at his front door. The boy greets him by saying, "I know the whole truth." The mailman immediately drops the mail, opens his arms, and says, "Then come give your Daddy a great big hug!"
Anonymous
A trucker who has been out on the road for two months stops at a brothel outside Atlanta. He walks straight up to the Madam, drops down $500 and says, "I want your ugliest woman and a grilled cheese sandwich!" The Madam is astonished. "But sir, for that kind of money you could have one of my prettiest ladies and a three-course meal." The trucker replies, "Listen darlin', I'm not horny – I'm just homesick."
rchavez2
Three guys go to a ski lodge, and there aren't enough rooms, so they have to share a bed. In the middle of the night, the guy on the right wakes up and says, "I had this wild, vivid dream of getting a hand job!" The guy on the left wakes up, and unbelievably, he's had the same dream, too. Then the guy in the middle wakes up and says, "That's funny, I dreamed I was skiing!"
TheLaughFactory
Q: Which sexual position produces the ugliest children?
A: Ask your mother.
TheLaughFactory
Three brothers are traveling along a road, and their car dies. They all get out of the car, and start walking to a barn that's a little ways away. When they get their, the farmer comes out of the barn, and offers them a room for one night. He says to the first one, "You can sleep with the pigs," the second guy," you can sleep with the cows", and the third guy, "I like the cut of your jib. You can sleep with my 18 daughters." The next morning, he asks everyone how they slept. The first man said, "I slept like a pig." The second man said ,"I slept like a cow." The third guy said, "I slept like a rabbit. I jumped from hole, to hole, to hole."
AminJimbo