Categories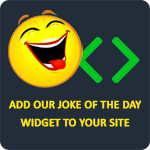 Three brothers are traveling along a road, and their car dies. They all get out of the car, and start walking to a barn that's a little ways away. When they get their, the farmer comes out of the barn, and offers them a room for one night. He says to the first one, "You can sleep with the pigs," the second guy," you can sleep with the cows", and the third guy, "I like the cut of your jib. You can sleep with my 18 daughters." The next morning, he asks everyone how they slept. The first man said, "I slept like a pig." The second man said ,"I slept like a cow." The third guy said, "I slept like a rabbit. I jumped from hole, to hole, to hole."
AminJimbo
An old couple is ready to go to sleep. The old man lies on the bed but the old woman lies down on the floor. The old man asks, ''Why are you going to sleep on the floor?'' The old woman says, "Because I want to feel something hard for a change."
Tanyaenp
Why did I get divorced? Well, last week was my birthday. My wife didn't wish me a happy birthday. My parents forgot and so did my kids. I went to work and even my colleagues didn't wish me a happy birthday. As I entered my office, my secretary said, "Happy birthday, boss!" I felt so special. She asked me out for lunch. After lunch, she invited me to her apartment. We went there and she said, "Do you mind if I go into the bedroom for a minute?" "Okay," I said. She came out 5 minutes later with a birthday cake, my wife, my parents, my kids, my friends, & my colleagues all yelling, "SURPRISE!!!" while I was waiting on the sofa... naked.
Anonymous
A gynecologist notices that a new patient is nervous. While putting on the latex gloves, he asks her if she knows how they make latex gloves. The patient says no. The doctor says, "There is a plant in Mexico full of latex that people of various hand sizes dip their hands into and let them dry. She does not crack a smile, but later she laughs. The doctor says, "What's so funny?" She says, "I'm imagining how they make condoms."
jameskwalton
Three guys go to a ski lodge, and there aren't enough rooms, so they have to share a bed. In the middle of the night, the guy on the right wakes up and says, "I had this wild, vivid dream of getting a hand job!" The guy on the left wakes up, and unbelievably, he's had the same dream, too. Then the guy in the middle wakes up and says, "That's funny, I dreamed I was skiing!"
TheLaughFactory