Categories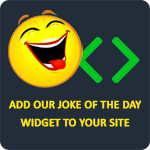 Three guys go to a ski lodge, and there aren't enough rooms, so they have to share a bed. In the middle of the night, the guy on the right wakes up and says, "I had this wild, vivid dream of getting a hand job!" The guy on the left wakes up, and unbelievably, he's had the same dream, too. Then the guy in the middle wakes up and says, "That's funny, I dreamed I was skiing!"
TheLaughFactory
Three brothers are traveling along a road, and their car dies. They all get out of the car, and start walking to a barn that's a little ways away. When they get their, the farmer comes out of the barn, and offers them a room for one night. He says to the first one, "You can sleep with the pigs," the second guy," you can sleep with the cows", and the third guy, "I like the cut of your jib. You can sleep with my 18 daughters." The next morning, he asks everyone how they slept. The first man said, "I slept like a pig." The second man said ,"I slept like a cow." The third guy said, "I slept like a rabbit. I jumped from hole, to hole, to hole."
AminJimbo
A woman is having a hard time getting her tomatoes to ripen so she goes to her neighbor with her problem. The neighbor says, "All you have to do is go out at midnight and dance around in the garden naked for a few minutes, and the tomatoes will become so embarrassed, they will blush bright red." The woman goes out at midnight and dances around her garden naked for a few minutes. The next morning, the neighbor comes over to the woman's house and asks the woman if her tomatoes have turned red. The woman says "No, they're still green, but I noticed the cucumbers grew four inches!"
starryknight
An old couple is ready to go to sleep. The old man lies on the bed but the old woman lies down on the floor. The old man asks, ''Why are you going to sleep on the floor?'' The old woman says, "Because I want to feel something hard for a change."
Tanyaenp
Q: Which sexual position produces the ugliest children?
A: Ask your mother.
TheLaughFactory