Categories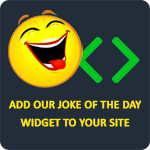 A guy goes to the store to buy condoms. "Do you want a bag?" the cashier asks. "No," the guy says, "she's not that ugly."
TheLaughFactory
A guy and his date are parked out in the country away from town, when they start kissing and fondling each other. Just then, the girl stops and sits up. "What's the matter?" asks the guy. She replies, "I really should have mentioned this earlier, but I'm actually a prostitute, and I charge $100 for sex." The man thinks about it for a few seconds, but then reluctantly gets out a $100 bill, pays her, and they have sex. After a cigarette, he just sits in the driver's seat looking out the window. "Why aren't we going anywhere?" asks the girl. "Well, I should have mentioned this before," replies the man, "but I'm actually a taxi driver, and the fare back to town is $50.
Anonymous
I was sitting on my own in a restaurant, when I saw a beautiful woman at another table. I sent her a bottle of the most expensive wine on the menu. She sent me a note, "I will not touch a drop of this wine unless you can assure me that you have seven inches in your pocket." I wrote back, "Give me the wine. As gorgeous as you are, I'm not cutting off three inches for anyone."
shedpal
Q: Which sexual position produces the ugliest children?
A: Ask your mother.
TheLaughFactory
A little boy with diarrhea tells his mom that he needs Viagra. The mom asks, "Why on Earth do you need that?!" The little boy says, "Isn't that what you give daddy when his sh*t doesn't get hard?"
kprecious