Categories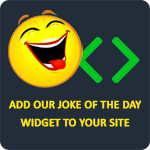 There is a fellow who is talking to his buddy and says, "I don't know what to get my wife for her birthday. She has everything, and besides, she can afford to buy anything she wants. I'm stumped." His buddy says, "I have an idea. Why don't you make up a certificate that says she can have two hours of great sex, any way she wants it. She'll probably be thrilled!" The first fellow does just that. The next day, his buddy asks, "Well, did you take my suggestion? How did it turn out?" "She loved it. She jumped up, thanked me, kissed me on the mouth, and ran out the door yelling, 'I'll see you in two hours!'"
Anonymous
A guy and his date are parked out in the country away from town, when they start kissing and fondling each other. Just then, the girl stops and sits up. "What's the matter?" asks the guy. She replies, "I really should have mentioned this earlier, but I'm actually a prostitute, and I charge $100 for sex." The man thinks about it for a few seconds, but then reluctantly gets out a $100 bill, pays her, and they have sex. After a cigarette, he just sits in the driver's seat looking out the window. "Why aren't we going anywhere?" asks the girl. "Well, I should have mentioned this before," replies the man, "but I'm actually a taxi driver, and the fare back to town is $50.
Anonymous
During a discussion at Sunday school, a nun asks the children what they think God takes you by when you die. A kid responds, "I think God takes you by your feet, because once I walked into my parents room and my mom's feet were in the air and she was screaming, "Oh God, I'm coming!!!"
brettsmith22
"Daddy, where did I come from?" seven-year-old Rachel asks. It is a moment for which her parents have carefully prepared. They take her into the living room, get out several other books, and explain all they think she should know about sexual attraction, affection, love, and reproduction. Then they both sit back and smile contentedly. "Does that answer your question?" the mom asks. "Not really," the little girl says. "Judy said she came from Detroit. I want to know where I came from."
abpmary
On hearing that her elderly grandfather has just passed away, Katie goes straight to her grandparents' house to visit her 95-year-old grandmother and comfort her. When she asks how her grandfather has died, her grandmother replies, "He had a heart attack while we were making love on Sunday morning." Horrified, Katie tells her grandmother that two people nearly 100 years old having sex will surely be asking for trouble. "Oh no, my dear. Many years ago, realizing our advanced age, we figured out the best time to do it was when the church bells would start to ring. It was just the right rhythm. It was nice, slow, and even. Nothing too strenuous, simply in on the ding and out on the dong." She pauses, wipes away a tear and then continues, "And if that damned ice cream truck hadn't come along, he'd still be alive today!"
moraanush