Categories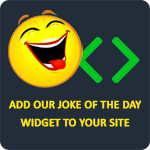 I was sitting on my own in a restaurant, when I saw a beautiful woman at another table. I sent her a bottle of the most expensive wine on the menu. She sent me a note, "I will not touch a drop of this wine unless you can assure me that you have seven inches in your pocket." I wrote back, "Give me the wine. As gorgeous as you are, I'm not cutting off three inches for anyone."
shedpal
During a discussion at Sunday school, a nun asks the children what they think God takes you by when you die. A kid responds, "I think God takes you by your feet, because once I walked into my parents room and my mom's feet were in the air and she was screaming, "Oh God, I'm coming!!!"
brettsmith22
A guy goes to the store to buy condoms. "Do you want a bag?" the cashier asks. "No," the guy says, "she's not that ugly."
TheLaughFactory
A little boy with diarrhea tells his mom that he needs Viagra. The mom asks, "Why on Earth do you need that?!" The little boy says, "Isn't that what you give daddy when his sh*t doesn't get hard?"
kprecious
Q: Why is sex like math?
A: You add a bed, subtract the clothes, divide the legs, and pray there's no multiplying.
Anonymous