Categories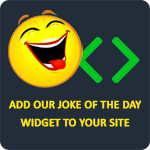 If at first you don't succeed, skydiving is not for you!
Anonymous
How many snowboarders does it take to screw in a lightbulb? 50: 3 to die trying, 1 to actually pull it off, and 46 other to say, "man, I could do that!"
dherter
Q: What do you call a bench full of white people?
A: The MLB.
Anonymous
What do hookers and the Dolphins have in common? They both have hundreds of balls pounded into their endzone every week.
Repor9
I'm dressing like a Dodger this Halloween. I'm going as a loser!
Malman