Categories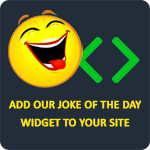 Q: What do you call a bench full of white people?
A: The MLB.
Anonymous
Q: What's the difference between England and a teabag?
A: A teabag could stay in the cup for longer.
yo cuzz
How many snowboarders does it take to screw in a lightbulb? 50: 3 to die trying, 1 to actually pull it off, and 46 other to say, "man, I could do that!"
dherter
Golfer: "Do you think my game is improving?"
Caddy: "Yes sir, you miss the ball much closer now."
Anonymous
Golfer: "I'd move heaven & earth to break 100 on this course." Caddy: "Try heaven; you've already moved most of the earth."
Anonymous