Categories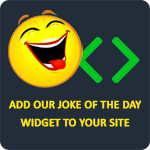 Q: What's the difference between England and a teabag?
A: A teabag could stay in the cup for longer.
yo cuzz
A man joins a soccer team and his new teammates inform him, "At your first team dinner as the new guy, you will have to give us a talk about sex." The evening arrives and he gives a detailed, humorous account of his sex life. When he got home, his wife asked how the evening went and not wanting to lie, but also not wanting to explain exactly what happened, he said, "Oh, I had to make a talk about yachting," his wife thought this a little peculiar but said nothing more and went to sleep. The next day she bumped into one of his new teammates at the supermarket and asked, "I heard my husband had to make a speech last night. How did it go?" His mate said smiling, 'Oh, it was excellent! Your husband is clearly very experienced!." The wife looked confused and replied to his mate, "Strange, he has only done it twice and the second time he was sick."
Anonymous
Golfer: "I'd move heaven & earth to break 100 on this course." Caddy: "Try heaven; you've already moved most of the earth."
Anonymous
The huge college freshman decided to try out for the football team. "Can you tackle?" asked the coach. "Watch this," said the freshman, who proceeded to run smack into a telephone pole, shattering it to splinters. "Wow," said the coach. "I'm impressed. Can you run?" "Of course I can run," said the freshman. He was off like a shot, and, in just over nine seconds, he had run a hundred yard dash. "Great!" enthused the coach. "But can you pass a football?" The freshman hesitated for a few seconds. "Well, sir," he said, "if I can swallow it, I can probably pass it."
TheLaughFactory
Golfer: "Do you think my game is improving?"
Caddy: "Yes sir, you miss the ball much closer now."
Anonymous