Categories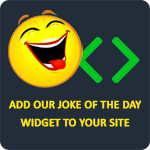 The huge college freshman decided to try out for the football team. "Can you tackle?" asked the coach. "Watch this," said the freshman, who proceeded to run smack into a telephone pole, shattering it to splinters. "Wow," said the coach. "I'm impressed. Can you run?" "Of course I can run," said the freshman. He was off like a shot, and, in just over nine seconds, he had run a hundred yard dash. "Great!" enthused the coach. "But can you pass a football?" The freshman hesitated for a few seconds. "Well, sir," he said, "if I can swallow it, I can probably pass it."
TheLaughFactory
Yo mom is so dumb that she thought Dunkin' Donuts was a basketball team.
Anonymous
A man joins a soccer team and his new teammates inform him, "At your first team dinner as the new guy, you will have to give us a talk about sex." The evening arrives and he gives a detailed, humorous account of his sex life. When he got home, his wife asked how the evening went and not wanting to lie, but also not wanting to explain exactly what happened, he said, "Oh, I had to make a talk about yachting," his wife thought this a little peculiar but said nothing more and went to sleep. The next day she bumped into one of his new teammates at the supermarket and asked, "I heard my husband had to make a speech last night. How did it go?" His mate said smiling, 'Oh, it was excellent! Your husband is clearly very experienced!." The wife looked confused and replied to his mate, "Strange, he has only done it twice and the second time he was sick."
Anonymous
What do hookers and the Dolphins have in common? They both have hundreds of balls pounded into their endzone every week.
Repor9
Two elderly sisters donated $5 to a charity and, to their surprise, won tickets to a football game. Since they had never seen a live football game before, Madge thought the free tickets would provide an excellent opportunity for doing so. "I think so, too," said Mabel. "Let's go!" They soon found themselves high in a noisy stadium overlooking a large, grassy expanse. They watched the kickoff and the seemingly endless back-and-forth struggles that comprised the scoreless first half. They enjoyed the band music and cheerleader performance that followed. Then came the second half. When the teams lined up for the second-half kickoff, Madge nudged her sister. "I guess we can go home now, Mabel," she said. "This is where
we came in."
TheLaughFactory