Categories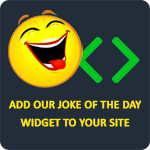 I'm dressing like a Dodger this Halloween. I'm going as a loser!
Malman
How do you flick off a Green Bay Packer fan? Hold four fingers up!
donjon420
Q: Which sport is always in trouble? A: BADminton.
Anonymous
Q: How many UNC fans does it take to change a tire? A: Four: three to tap the keg and one to call daddy.
Leonard Washington
Q: What did March say to the madness? A: "What's all that bracket?"
Anonymous