Categories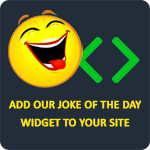 I'm dressing like a Dodger this Halloween. I'm going as a loser!
Malman
How do you flick off a Green Bay Packer fan? Hold four fingers up!
donjon420
Q: Why is a baseball game a good place to go on a hot day?
A: Because there are lots of fans.
Iamsnappy4
Q: Which sport is always in trouble? A: BADminton.
Anonymous
Q: How did the blonde fisherman die?
A: He was run over by the Zamboni.
Anonymous