Categories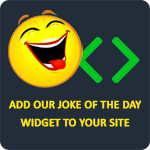 Your momma is so stupid she put airbags on her computer in case it crashed.
andres2152
Q: How can you tell if a blonde used a computer?
A: There's Wite-Out all over the screen.
Paul Aungpe
Q: What's Forrest Gump's password?
A: 1forrest1
TheLaughFactory
Yo momma so fat when she registered for MySpace there was no space left.
Anonymous
Q: Why did the blonde put her iPhone in a blender?
A: To make apple juice.
Anonymous