Categories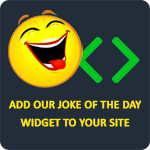 Your momma is so stupid she put airbags on her computer in case it crashed.
andres2152
Q: What do computers eat for a snack?
A: Microchips!
Samanthas Awesome Jokes
Yo momma so fat when she registered for MySpace there was no space left.
Anonymous
Mother: "Sweetie, make a Christmas wish."
Girl: "I wish that Santa will send some clothes to those naked girls in papa's computer."
Gerome
The energizer bunny was arrested on a charge of battery.
Silenxio Maximeaning Ultimious