Categories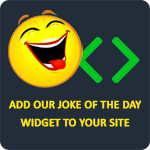 Yo momma's so fat, her baby pictures were taken by satellite.
LaughFactory
Yo momma is so stupid that when thieves broke in and stole the tv, she ran outside and yelled to them,"Hey, you forgot the remote!"
Dra03
Your momma is so hairy when she opens her legs it says "Welcome to Busch Gardens."
bayron
Yo Momma's teeth are so yellow, that when she smiles, traffic slows down!
Shopro2
Yo momma's so ugly, the government moved Halloween to her birthday!
maggs