Categories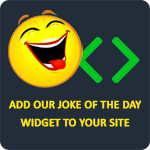 Yo momma so stupid she stuck a phone up her butt and thought she was making a booty call!
rosatruesdale
Yo Momma's teeth are so yellow, that when she smiles, traffic slows down!
Shopro2
Yo mamma so stupid she tried to put M&M's in alphabetical order.
Anonymous
Yo momma is so ugly her momma had to tie a steak around her neck to get the dog to lick her.
TheLaughFactory
Yo mama so ugly she gives Freddy Krueger nightmares.
David Simon [the boss]