Categories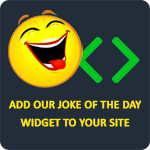 Yo momma's so fat, when she uses the keyboard she presses every key at once!
Its More Fun In The Philippines!
Yo momma's so fat, even Dora can't explore her.
imabeast55
Yo Momma's teeth are so yellow, that when she smiles, people slow down!
Shopro2
Yo mamma so stupid she tried to put M&M's in alphabetical order.
Anonymous
Yo momma's so fat, her baby pictures were taken by satellite.
LaughFactory