Categories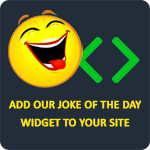 Yo momma's so fat, her belt size is "Equator."
LaughFactory
Yo momma is so ugly her momma had to tie a steak around her neck to get the dog to lick her.
TheLaughFactory
Yo mama so dumb she tried to make an appointment with Dr. Pepper.
David Simon[the boss]
Yo momma's so fat, when she uses the keyboard she presses every key at once!
Its More Fun In The Philippines!
Yo mama so stupid, she returned a donut because it had a hole in it.
YoYoMan