Categories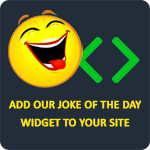 Yo momma's so dumb, when y'all were driving to Disneyland, she saw a sign that said "Disneyland left," so she went home.
LaughFactory
Yo momma is so fat that when she saw a yellow school bus go by full of white kids she ran after it yelling, "TWINKIE!"
the master
Yo momma's so hairy, that when you were born, you almost died of extreme rug burn.
aliciabrieno
Yo momma is so stupid that she sat on the TV to watch the couch.
Anonymous
Yo momma is so ugly even Hello Kitty said, "Goodbye" to her
mariela sapon