Categories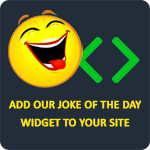 Yo momma is so stupid she took a ruler to bed to see how long she slept.
TheLaughFactory
Yo momma is so fat when she stepped on the scale it read, "Get the hell off me!"
rayray23234
Yo momma so fat when she steps out in a yellow raincoat, the people yell, "TAXI!"
Chloe Coyle
Yo momma's so fat, that when she went to the zoo, the hippos got jealous.
Anonymous
Yo momma so ugly, she had to get the baby drunk so that she could breastfeed it.
Anonymous