Categories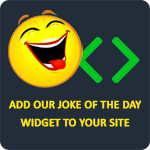 Yo momma is so ugly Fix-It Felix said, "I can't fix it."
@MusicGod2001
Yo momma so ugly, she had to get the baby drunk so that she could breastfeed it.
Anonymous
Yo momma is so ashy, every time she rubs her arms it snows.
Anonymous
Yo mom is so dumb that she thought Dunkin' Donuts was a basketball team.
Anonymous
Yo momma's so fat, the only way to get her out of a telephone booth is to grease her thighs and throw a Twinkie in the street.
LaughFactory